What Channel Is the GOP CNN Debate and Other Viewing Info You Need to Know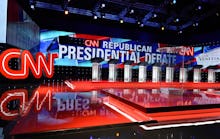 The fifth Republican primary debate kicks off Tuesday evening, and viewers can catch the showdown live on CNN. The network, which is hosting the debate, will also livestream footage of the event, which will unfurl at the Venetian theater in Las Vegas. The main debate begins at 8:30 p.m. Eastern, following an undercard showdown that starts at 6:00 p.m. Eastern. 
Who's participating? Nine candidates will take the stage for the main debate on Tuesday. Front and center will be business tycoon and top-polling candidate Donald Trump, joined by Texas Sen. Ted Cruz, former neurosurgeon Ben Carson, former Florida Gov. Jeb Bush, Florida Sen. Marco Rubio, ex-Hewlett-Packard CEO Carly Fiorina, New Jersey Gov. Chris Christie, Ohio Gov. John Kasich and Kentucky Sen. Rand Paul. 
In order to qualify for the main debate, CNN's rules require candidates to be polling at 3.5% nationwide, or at 4% in Iowa and New Hampshire. The undercard candidates that didn't meet the cut are former Arkansas Gov. Mike Huckabee, Sen. Lindsey Graham of South Carolina, former New York Gov. George Pataki and former Pennsylvania Sen. Rick Santorum.
Who will moderate the debate? CNN's Wolf Blitzer be the night's main moderator, while CNN's Hugh Hewitt and Dana Bash will both help question the candidates on stage. The network's politics reporter, Tal Kopan, will host the televised pre-debate coverage on Tuesday.
According to Trump, viewers are in for a show. "We have a big night tomorrow night," the real estate mogul said Monday night at the Westgate Resort & Casino in Las Vegas, according to CNN. "It's gonna be good."