Nicki Minaj Facing Backlash for Upcoming Performance in Angola — Here's Why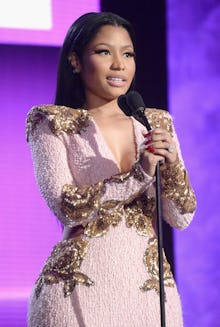 Rapper Nicki Minaj is being asked by Thor Halvorssen, head of the Human Rights Foundation, to cancel her Saturday performance in Luanda, Angola, Billboard reported. Ruled by President José Eduardo dos Santos since 1979, Angola has a reputation of human rights violations toward activists and journalists. Minaj has yet to respond to the call to skip Angola. 
Minaj's performance is part of the Unitel Christmas Festival concert and financed by cellphone company Unitel, which is "controlled" by the daughter of dos Santos, according to the letter.
"Ms. Minaj, you are well known for being involved with charities such as the Get Schooled Foundation, which helps motivate young people to graduate from high school and succeed in college," Halvorssen wrote in the letter, dated Tuesday. "If you move forward with this performance for the dictator and his family, you will be in league with the people stealing educational resources and opportunity from young Angolans." 
Halvorssen instead asked Minaj to advocate for Angolan rapper Luaty Beirão's release. Beirão was arrested in June for promoting democracy and nonviolence, and for a hunger strike, according to Complex. Halvorssen became known for attempting to send thousands of copies of Seth Rogen and James Franco's The Interview movie to North Korea, according to the Hollywood Reporter. 
In his letter, Halvorssen cited cases from Amnesty International, Freedom House and the Committee to Protect Journalists, and dos Santos' exploitation of the diamond and oil resources. In 2013, the Human Rights Foundation gave Mariah Carey similar scrutiny for her Angolan concert, for which she received $1 million, the Guardian reported. Halvorssen called it "dictator cash."