The Burning Hell New Album: Here's Everything We Know About 'Public Library'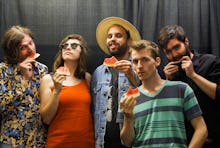 Canadian indie-rock band the Burning Hell has a new album coming in 2016, according to the band's website, and it will be titled Public Library. The new album, the Burning Hell's seventh, will be a follow-up to the band's 2013 release, People. 
In July the band released Live Animals, a collection of performances recorded during an earlier European tour. The Burning Hell released in October a new song off Public Library, "Fuck the Government, I Love You," with an accompanying music video. "We had a lot of fun making it, as you can probably tell," the band posted on its website.
The Burning Hell has been quiet about what changes may be in store for Public Library, but response to "Fuck The Government, I Love You" has already been positive, with one Canadian radio station calling it "utterly charming."
In a 2013 interview about the release of People, vocalist Mathias Kom described the band's transition from indie-folk towards rock. "Don't get me wrong, I still love my ukulele and everything, and I'm not giving it up, but there was something pretty satisfying about getting back to the guitar," Kom told Canada's the Independent. "The energy just kind of naturally swung the songs in that direction."
Band members Kom and Ariel Sharratt also perform as a separate duo, and in November they released an "EP of duets," Don't Believe the Hyperreal.