Gwen Stefani Has Been Quietly Making One of the Year's Most Empowered Returns to Music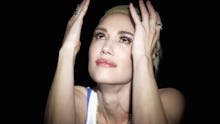 To this day, Gwen Stefani's Love.Angel.Music.Baby. remains one of the best pop albums of the 2000s. Its banana-spelling hit "Hollaback Girl" and pirate-inspired collaboration "Rich Girl" helped define a decade of hip-hop infused, hook-first pop. The fact she could morph from her New Wave pop punk No Doubt self into a convincing pop diva raised her up as one of pop's promising and flexible solo acts. However, the sound didn't give her much room to grow.
For over 10 years, we saw little out of Stefani able to live up to those standards she set with Love.Angel.Music.Baby. Her next album felt thin; critics described her attempted No Doubt comeback album as "worryingly generic"; and her responsibilities on The Voice have hardly challenged her artistically. However, this year, over a decade after Love.Angel.Music.Baby, her last musical bright spot, we're seeing another Stefani take shape. She relaunched her solo career and is making some of the rawest, most intimate music yet. 
While much of the pop world was getting swept up in the Adele comeback fever in late October, Stefani released the ballad "Used to Love You." Probing the heartache and pain in the aftermath of her divorce to Bush singer Gavin Rossdale, the song felt urgent and personal in a way her music hasn't in years. A stunning performance on The Voice confirmed Stefani's willingness to open up to her fans musically with a deeper, more confessional tone. 
While Stefani excelled with ballads in the 2000s — namely with "The Real Thing" and "4 in the Morning" — their emotional depth sometimes felt undone by a lack of authenticity. They were too polished, too perfect in their despondency and sadness. They never felt completely convincing as coming from Stefani herself, whose personal life at the time attended to marriage and motherhood, not heartache and failure.
In the music video of "What You Waiting For?" she made a joke out of not being able to draw inspiration from her personal life. The video depicts Stefani as struggling to write music after being coerced into the recording studio by her manager. It was funny at the time, but it was too easy to look at her next album, The Sweet Escape, as being forced out in this same way. For a musical example look no further than "Wind It Up" — a poor girl's "Hollaback."
Unlike the former '00s ballads, "Used to Love You" is actually connected to difficult events in Stefani's personal life, which may have made a difference in helping the song establish richer and more identifiable narrative to fans. It certainly helped make Adele's comeback music feel more alive. 
The song addresses the breakdown of her marriage and her struggles to continue to identify with being a wife and mother in the aftermath. The video underscores these themes of loss and identity, showing a pained, teary-eyed Stefani singing directly to the camera's unforgiving gaze. While Stefani is speaking directly to the camera (a stand-in for Rossdale), she is also speaking to us, her fans. There she is telling us this is the deepest cut, the most painful heartache she has yet endured. 
At last, here is a Stefani interested in reveal her vulnerability, taking us back to the No Doubt days of indie-rock anthems of empowerment and self-realization — "It's My Life" being the most direct parallel.
Stefani did release two songs in 2014: "Baby Don't Lie" and "Spark the Fire," the former which did moderately well, hitting No. 46 on the Billboard Hot 100, while the other never charted. The songs likely failed to generate much interest because, like most her 2000s music, it felt too manufactured, masking Stefani's flaws with fantasy and computer effects and away from her inner world. Stefani knew it and has since abandoned that project.
"It didn't feel right," Stefani told Entertainment Weekly of the scrapped direction. "I didn't feel fulfilled. That record with Benny [Blanco, hitmaker behind some of Katy Perry's and Kesha's biggest hits] was done that way because I had just given birth and had just started on The Voice and felt like I should do something in music, but what was I going to do? There wasn't enough time. So I tried to make a record where I was just kind of involved — which is how a lot of people do it, but it didn't work for me." 
"Used to Love You" signals that world is but a figment of one possible past. In its place, we have a new self-aware, probing Stefani on the rise. She's back to channeling her trials and tribulations into her characteristically quirky, lyrical and beautiful ballads — at long last.