13 Women Who Defined Feminism in 2015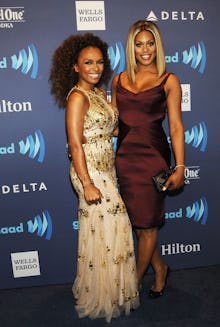 From Silicon Valley to the streets of Chicago to the set of Broad City, the women making a difference in 2015 were out and proud about their feminist identities. Here is just a small selection of the many powerful women who helped define, and redefine, feminism in 2015:
1. Malala Yousafzai 
After becoming the youngest Nobel laureate in history when she was awarded the 2014 Nobel Peace Prize, Yousafzai spent 2015 working tirelessly to spread awareness to the cause of education for women and girls. October saw the premiere of He Named Me Malala, a documentary about Yousafzai's story. And, at only 18, Yousafzai is poised for many more years as one of the most important names in the global fight for gender equality.
2. Hillary Clinton
While Clinton is definitely not a new arrival to the national stage — and she's been accused representing a brand of feminism that excludes women of color — this list would be remiss without a mention of the former secretary of state and United States senator, who may very possibly become the first woman to win the Democratic presidential nomination. Clinton has been vocal about her feminism, telling Lena Dunham in September, "I'm a feminist, and I say it whenever I'm asked."
3. Janet Mock
This activist and author has continued to kick ass and take names in 2015. She has been a vocal advocate for the trans community, and appeared in a powerful interview with Oprah in May where she addressed the intersectionality of her identity as a black trans woman. In October, Mock gave an interview at Northwestern University where she discussed the importance of including young trans women of color in feminist circles, saying "If we aren't centering these girls and women and people in our politics, then our feminism is phony."
4. Beyoncé
Queen Bey has long been unafraid to use the F-word to describe herself, but in 2015 she took her feminism to a new level by not only being vocal about women's rights, but also showing support for the Black Lives Matter movement. Beyoncé also teamed up with Michelle Obama in September to send a message about the importance of global access to education for young women and girls.
5. The women of #BlackLivesMatter
Black Lives Matter, the grassroots movement that began in 2013 following the acquittal of George Zimmerman in the shooting death of 17-year-old Trayvon Martin, has become a major player on the national scene — during the first Democratic presidential debate, candidates were essentially asked whether or not they supported the movement, which calls for "freedom and justice for Black people, and by extension, all people." The Black Lives Matter movement was originally founded by three women of color, Alicia Garza, Patrisse Cullors and Opal Tometti, and women have remained on the forefront of the social movement across the country. 
6. Lena Dunham
Dunham has always been a proud feminist, but the actress and Girls creator continued to discuss and engage with her feminist identity in 2015. In a April speech at an event honoring Dunham for her work supporting an organization that helps women who are survivors of sexual assault, Dunham addressed the power of language and words in empowering women. Dunham has also continued to be a vocal supporter of body positivity for women. In September, she launched her feminist email newsletter, Lenny, and in December she released a line of nail art featuring vaginas, butts and boobs.
7. Amy Schumer
Schumer joined a growing list of feminist comedians who told it like it was in 2015. Her sketch comedy show skewered everything from the objectification of women's bodies to the unattainable beauty standards set for women to Hollywood's obsession with women's ages. Schumer also has been vocal about her personal struggles with body image. 
8. Jennifer Lawrence
This Oscar-winner and megastar came out in the forefront of the issue of Hollywood's gendered wage gap this year. In an October op-ed for Lenny, Dunham's email newsletter, Lawrence spoke out about the issue, writing, "When the Sony hack happened and I found out how much less I was being paid than the lucky people with dicks, I didn't get mad at Sony ... Based on the statistics, I don't think I'm the only woman with this issue." 
9. Abbi Jacobson and Ilana Glazer
The Broad City co-creators served up feminist comedy for a millennial audience in 2015. The second season of their show continued to prove that women comedians are just as capable of playing hilarious, horny stoners as their male counterparts. But Jacobson and Glazer's fictional versions of themselves on Broad City aren't just funny — they're also sexually empowered, independent and unabashedly supportive of each other's accomplishments. The duo has also proudly discussed their off-screen feminism as well: In an April appearance at an event honoring women in comedy, Glazer reminded women not to listen to societal expectations, telling the crowd, "So I'm a badass bitch because my friends from home are all getting engaged and married and moving in with people forever and it doesn't pressure me."
10. Melissa Harris-Perry
Harris-Perry has continually used her weekly news and politics show on MSNBC to bring up issues related to black feminism, including her personal experience of having her hair patted down during an airport security screening. Harris-Perry frequently discusses feminism with her guests, including an awesome analysis, back in July, of the feminist message behind Magic Mike XXL.
11. Michelle Obama
During the years her husband has been president, first lady Michelle Obama has been a political force in her own right, often using her platform to bring up issues of gender equality. In September, she announced the #62MillionGirls campaign to raise awareness to the 62 million school-aged girls around the world who lack access to education. "No country can ever truly flourish if it stifles the potential of its women and deprives itself of the contributions of half of its citizens," Obama told a crowd of African leaders who were in the U.S. for "leadership training" back in 2014.
12. Venus and Serena Williams
It's no secret that Serena Williams had a completely amazing 2015: She's ranked as the best woman tennis player in the world, and in December, she was named Sports Illustrated's 2015 Sportsperson of the Year. She is the first woman to hold the honor solo since 1983. But, as amazing as Serena is on her own, the Williams sisters together are a model for an empowering, strong relationship. Together they have fended off sexist body-shaming, and continued to challenge and support one another.
 13. Emma Watson
Watson is yet another young Hollywood star who isn't afraid to call herself a feminist. In September, the actress and United Nations Women Goodwill Ambassador called out sexism in Hollywood, drawing on her personal experiences. In March, she spoke out against the backlash and threats she received after identifying as a feminist, saying, "If anything, it made me so much more determined. I was just raging. It made me so angry that I was just like, 'This is why I have to be doing this!' If they were trying to put me off, it did the opposite."