CNN GOP Debate 2015 Results: Full Recap and Highlights From Republican Debate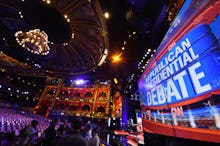 Thirteen Republican presidential hopefuls gathered in Las Vegas on Tuesday evening for the fifth Republican primary debate. CNN hosted the debate, which was held at the Venetian Theatre, situated in striking distance of the Strip. 
It's been more than a month since the Republican candidates gathered onstage to debate at the Fox Business Network/Wall Street Journal debate in Milwaukee on Nov. 10. Given the timestamp on the last debate, this is the first time Republican candidates will assemble onstage since the bloody attacks that rocked Paris on Nov. 13, which the Islamic State group, or ISIS, claimed responsibility for. There's been no shortage of violence in America since the Paris attacks, particularly involving firearms, a topic that the candidates will likely be asked to comment on given recent events.
The macro picture: Most recently, on Nov. 27, an anti-abortion extremist stormed a Planned Parenthood in Colorado Springs, Colorado, and opened fire, killing three victims. Not long after the incident in Colorado, two radicalized extremists waged a brutal attack on a social services center in San Bernardino, California, which President Barack Obama labeled "an act of terrorism." 
The Dec. 2 attack in San Bernardino took the lives of 14 people, making the homegrown terrorist attack the worst mass killing in America since the Sandy Hook shooting in 2012. As Mic previously reported, gun laws in the U.S. haven't changed much since the mass killing at Sandy Hook, despite continued carnage.  
According to the most recent numbers from CNN's Poll of Polls, business tycoon and Republican frontrunner Donald Trump is leading the pack, polling at 33% of Republican primary voters. Texas Sen. Ted Cruz trails trump with 17% of GOP primary voters favor, followed by Florida Sen. Marco Rubio at 12% and retired neurosurgeon Ben Carson at 11%. 
Setting the stage: The evening in Las Vegas kicked off with an undercard debate featuring four candidates that fell short of CNN's qualification cutoff for the main debate — only candidates polling at 3.5% nationwide, or at 4% in Iowa and New Hampshire, made the main stage cut. At 6:30 p.m. Eastern, former Arkansas Gov. Mike Huckabee, Sen. Lindsey Graham of South Carolina, former New York Gov. George Pataki and former Pennsylvania Sen. Rick Santorum took the stage for the undercard debate, a face-off that featured more than a few Princess Bride references from Graham, Twitter users pointed out.
Nine candidates took the main stage for the debate on Tuesday: Trump, Cruz, Carson, former Florida Gov. Jeb Bush, Rubio, former Hewlett-Packard CEO Carly Fiorina, New Jersey Gov. Chris Christie, Ohio Gov. John Kasich and Kentucky Sen. Rand Paul. CNN TV anchor Wolf Blitzer was lead moderator Tuesday night, joined by CNN's Hugh Hewitt and Dana Bash. 
Opening remarks: As if in one collective exhale, the Republican candidates on stage sang a familiar chorus: keep America safe. Paul argued the way to fight the threat of terrorism and combat ISIS is to "quit arming the allies of ISIS," while Christie laid the blame for widespread fear in the U.S., including closures of Los Angeles' public school district on Tuesday in response to a threat, squarely on Democratic leaders, naming President Barack Obama and Democratic presidential candidate Hillary Clinton directly. 
In her opening remarks, Fiorina pointed to her experience as a woman in the workforce, a mother and as a former CEO, saying they had equipped her for the presidency. Carson followed suit with a nod to his time in scrubs, after calling on viewers to join him in a somewhat strained moment of silence in honor of San Bernardino victims. Next, Bush jumped in. "Our freedom is under attack, our economy is under water," Bush said. "Regarding national security, we need to rebuild our military, to destroy ISIS before it destroys us. Regarding economic security, we need to take power and money away from Washington, D.C., and empower American families so that they can rise up."
Trump and Bush tangle early on: Blitzer didn't mince words. Right off the bat, the lead moderator pressed Trump on his extremist anti-Muslim political rhetoric, particularly the candidate's proposal for a memorandum on all Muslim immigration to the U.S. "Is the best way to make America great again to isolate it from much the rest of the world?" Blitzer asked.
"Our country is out of control," Trump responded. "People are pouring across the southern border... if I'm president and if Obama has brought some to this country, they are leaving. They're going. They're gone." Trump's remarks drew a degree of applause from the audience, and they also drew Trump into a head to head tangle with Bush, who criticized Trump's remarks and called the business tycoon  a "chaos candidate," and suggested that Trump would make a  "chaos president." Bush's comments seemingly drew twice as much applause as Trump's. 
The first time Carson spoke, he wasted just a few moments lamenting the fact that so much time had passed before he was asked a single question. He then continued, "This is craziness," in reference to the threat of terrorism at home and rising violence at the hands of ISIS. According to Carson, Americans "need to understand" that the nation "is in great danger," and that Muslim brotherhood would "take advantage of our PC attitude to get us."
Trump was asked if he would legitimately consider closing down portions of the internet to stop ISIS from using the web as tool to recruit extremists. The proposal has caused some to liken the idea to internet censorship in China. After a fair among of dodging, Trump said, "yes sir I am."
As of the first commercial break, Cruz had wracked up more speaking time than his fellow candidates.
The "war of our time": If the war against ISIS is the single military affront of the epoch, the candidates were asked to explain how they'd lead America to victory as commander-in-chief. Cruz stood by prior comments to "bomb ISIS into oblivion" and argued for increased, targeted air warfare, saying, "The object isn't to level a city, it's to kill the terrorists who make it." 
Rubio responded by reminding the audience that ISIS is a radical Sunni group, and argued air force attacks aren't enough and that embedding troops is a necessary task. 
Bush argued for increasing investments in the military and expressed a need to deal with the no-fly zone in Syria, though those declarations came after a bit of a scuffle with Trump, during which Trump asked Bush to apologize for interrupting him and then said, "With Jeb's attitude, we will never be great again, that I can tell you."
"Donald, you're not going to be able to insult your way to the presidency," Bush retorted.
Moderators brought Carson back into the debate, and wanted to know if the retired neurosurgeon, who dedicated years as a doctor to saving lives, had the heart to issue hardline wartime commands. Carson responded by saying that the job of the President of the United States is to protect American citizens. 
When called upon to describe how she would wage war against ISIS, Fiorina gendered the debate. 
"Talking tough is not the same as waging wars," Fiorina said, quoting Margaret Thatcher: "If you want something talked about, ask a man. If you want something done, ask a woman."
During Tuesday night's debate, the candidates took ample time to spar on Syrian president Bashar al-Assad. "I think Assad is bad guy," Trump said, though when pressed by the moderators the leading Republican GOP candidate argued that the American military has to do "one thing at a time." 
"When you're fighting Assad, you're fighting Russia," Trump said. 
About an hour and 20 minutes into the debate, Trump hit back at the moderators, suggesting that CNN's hosts were asking leading questions in a play for ratings. Decorum onstage dissolved momentarily as Trump went on the attack and Bush jumped in.
The conversation turned to immigration. Rubio argued that for him, immigration was personal, a narrative he's used before. "My family are immigrants," Rubio said. "My wife's family are immigrants. All of my neighbors are immigrants. I see every aspect of this problem." Yet Rubio added, "we will not be able to do anything on immigration until we prove to the american people that immigration is under control," and called for the addition of 20,000 border agents and the construction of 700 miles of fencing. 
Typically the GOP party outlier on immigration, Rubio's plan was a far cry from a liberal agenda. Rubio argued for a mandatory tracking and verification system, a need to reform the current legal immigration system and for additional background checks on potential immigrants. Yet, after 10 years or so of legal headaches, Rubio said he'd be open to allowing illegal immigrants to obtain green cards.
When asked if Rubio's immigration policy aligned with his own, Cruz built a proverbial wall between his and Rubio's stance on immigration. "If I'm elected president, we will secure the border," Cruz said. "We will triple the border patrol. We will build a wall that works and I'll get Donald Trump to pay for it." 
Betraying a hint of agitation, Rubio hit back against Cruz by evoking the significance at this point in history of the Syrian refugee crisis. "In 2013 we had never faced a crisis like the Syrian refugee crisis," Rubio said. "I'm puzzled by his attack on this issue."
"I have never supported legalization and I do not intend to," Cruz replied.
When pulled into the conversation, Bush argued a conservative agenda. "Clearly we need to secure the border," Bush said, arguing for increased border security and citing public health epidemics due to increased drug trafficking from abroad. 
Carson argued for a need to aid Syrian refugees, though not by allowing them to immigrate to the U.S., because according to Carson, those refugees would almost certainly be infiltrated by terrorists. According to Carson, if Syrian refugees were not infiltrated by terrorists, it would be "terrorist malpractice" on behalf of extremists. 
Next, the candidates cycled through foreign policy opinions on how to handle leadership in North Korea, particularly touching on the threat of nuclear war and butting heads over who is most qualified to handle the intricacies of foreign affairs and which among them could be trusted with the keys to the nuclear codes. 
Closing remarks: In closing, Paul said that the nation's debt is America's biggest problem and claimed to be the only fiscal conservative on stage, Christie shared an anecdote about living through the fear of nearly loosing family members in the 9/11 terror attacks and made it known that fighting radical terrorism is core to his platform.  
For her part, Fiorina called for a unified front against the democrats, specifically the need to band together to take on former Secretary of State Clinton. Rubio waxed sentimental about reviving the American Dream while Cruz leaned heavily into Reaganism rhetoric.  
The frontrunner got the last word. "Our country doesn't win anymore," Trump said. "We don't win on trade. We don't win on the military. We can't defeat ISIS... Nothing works in our country. If I'm elected president, we will win again."
In the immediate aftermath of the debate, it was unclear if the fifth Republican primary debate had a clear winner. Yet data from the debate betrayed some evident truths: Rubio was the most mentioned candidate during the debate.
And weighing in after the debate, several of the Democratic presidential candidates had opinions. Vermont Sen. Bernie Sanders, for one, thought the GOP candidates missed the mark on crucial topics, while Clinton, the Democratic frontrunner, went as far on Twitter as to begin circulating a petition to keep Trump or "any of the Republican candidates" out of the White House.