Lindsey Graham's 'Princess Bride' References During GOP Debate Were "Inconceivable"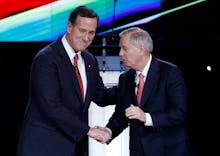 During Tuesday's kiddie table GOP debate on CNN, South Carolina Sen. Lindsey Graham took a stab mocking fellow Republican candidate Texas Sen. Ted Cruz and his foreign policy — with some references from The Princess Bride. For the record, Cruz has called the 1987 movie one of his favorites, even quoting it at events, according to the New York Times. 
Graham strategically used the movie's famous line of "inconceivable," and also a reference to the character Princess Buttercup. Graham's campaign manager, Christian Ferry, told Mic back in September that Graham is a "funny" but "serious" guy who uses humor to "propel" his message. 
Here's how Twitter reacted to the pop culture shout-out:
Taking place in Las Vegas, Tuesday's GOP debate was the fifth and last Republican debate of the year, according to CNN. The early debate featuring Graham started at 6 p.m. Eastern, while the mainstage debate, which features those candidates who met CNN's debate criteria, which included recent polling numbers, was expected to begin at 9 p.m. CNN's Wolf Blitzer moderated the debate, accompanied by CNN political chief correspondent Dana Bash and radio talk show host Hugh Hewitt. Hot topics to watch for were national security and climate change. 
Dec. 15, 2015, 8:30 p.m. Eastern: This story has been updated.