Republicans Are Falling All Over Themselves to Scare the Hell Out of Everyone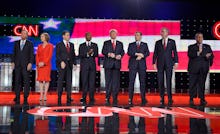 Sen. Rand Paul (R-Ky.) opened the fifth Republican presidential debate on Tuesday began with a stirring defense of civil liberties at times of increasing insecurity and a survey of America's mishaps in the Middle East over the past 15 years. After his words of caution on national security, the following eight candidates onstage proceeded to say the exact opposite.
While in the days preceding the debate, political strategists and journalists predicted all kinds of clashes onstage, from the very beginning of the debate it was clear that the debate would be defined by at least one point of near-total consensus: The world is a terrifying place.
New Jersey Gov. Chris Christie was eager to paint a picture of a world in which absolutely nobody is safe, by bringing up the closing of schools across Los Angeles on Tuesday after an email threat that authorities subsequently deemed "not credible."
"The second-largest school district in America in Los Angeles closed based on a threat — think about the effect that that is going to have on those children, when they go back to school tomorrow wondering, filled with anxiety about whether they're really going to be safe," Christie said. "Think about the mothers who will take those children tomorrow morning to the bus stop, wondering whether their children will arrive back on that bus safe and sound. Think about the fathers of Los Angeles who tomorrow will head off to work and wonder about the safety of their wives and their children."
For Christie, the threat, which did not came to fruition, signalled the death of American safety.
"What have Barack Obama and Hillary Clinton done to this country?" Christie asked. "The most basic responsibility of an administration is to protect the safety and security of the American people."
Sen. Marco Rubio (R-Fl.) warned of unprecedented weakness in American foreign policy and described the Obama administration as an affront to the tradition of American exceptionalism.
"This president has destroyed our military, our allies no longer trust us and our adversaries no longer respect us," Rubio said.
In a subtle defense of the alarmism that's been coming out of the right recently, between talk of bans on Muslim immigration and turning Syrian refugees away from the United States, Rubio said people are being "called bigots because they hold on to traditional values."
Trump did not disappoint on the front of extreme rhetoric. When asked a question by Josh Jacob from Georgia Tech, pulled off of Facebook, about how he could possibly advocate for killing the civilian family members of terrorists and still maintain a moral high ground over them, Trump was unfazed.
"We have to be much tougher, we have to be much stronger than we've been," Trump said. "I would be very, very firm with families. Frankly, that will make people think, because they may not care much about their lives, but they do care, believe it or not, about their families' lives."
How does Trump maintain this defense of potentially targeting civilians? He revealed it during his opening statement, "Our country is out of control." 
When you believe the world is a place to be terrified of, then anything can be justified in the name of security.