What Is the USA Freedom Act? A Summary of 2015 Surveillance Reform Act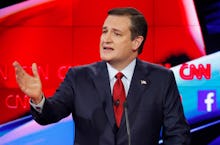 National security took the plate during Tuesday evening's GOP debate, with Dana Bash asking how to balance surveillance with privacy and keeping Americans safe. Following the recent San Bernardino, California, attack, Sen. Ted Cruz was called out for voting for a bill that President Barack Obama signed into law in June, called the USA Freedom Act, which changed the way the government can survey and collect phone records from citizens.
Officially called the H.R. 2048, the USA Freedom Act worked to increase privacy and transparency while detailing a new program for collecting such data as it relates to terrorist activity, according to the U.S. House of Representatives website. 
Cruz defended the act, continuing to argue that surveillance approval would help U.S. intelligence agencies crack down on terrorists, by ending the controversial bulk collection of phone meta data. Florida Sen. Marco Rubio voted against the bill. Sen. Paul Rand also voted against the bill, according to NPR. 
Before Obama signed the USA Freedom Act on June 2, it had been decades since a U.S. surveillance program, according to the Daily Dot. The bill passed the Senate 67-32 and the House 388-88. 
The USA Freedom Act brought back to life three provisions from the 2001 USA Patriot Act, which had just expired. Those provisions included banning bulk phone records requested by the National Security Agency, requiring the Foreign Intelligence Surveillance Court to publish declassified copies of its opinions and also created a board of privacy advocates to represent the public in cases against the FISC. Instead, the NSA can work with phone companies to get phone records of reasonably suspicious people, the Washington Post reported. 
Private companies also earned more freedom to report information, according to the Washington Post.
The ISIL-specific section of the bill gave the government 72 hours to track foreign terrorists who enter the nation. On that note, prison sentences for those who are caught supporting terrorist organizations were also increased from 15 years to 20.
The USA Freedom Act will be live until Dec. 15, 2019, NPR reported.