Free Holiday Gift Idea for Nerds: Turn Your Friends' Instagrams Into an Everlasting Puzzle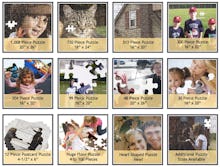 It's that time of year. You're searching for last-minute holiday gifts, trying to find something low-effort and relatively inexpensive, but also thoughtful and not lame. Still stumped? We've got you covered with a brand spankin' new idea: Turn your friends' Instagrams into puzzles.
OK, maybe it's not brand new. Shutterfly and mall stands near you have been turning photos into puzzles (and T-shirts and mousepads and mugs and calendars) for forever.
But this year, consider how much your friends use Instagram (55% of all Internet-using 18-to-29-year olds do), and how much effort they put into it, from documenting every moment to choosing the perfect filter. Our whole lives (or the prettiest moments, at least) are online, but ultimately are fleeting. We bothered to get up and leave our homes — or at least spruce up our kitchen tables — all for a quick spike in likes that no one will look at ever again. Don't you think your friends would like to relive those glorious moments in which the lighting was perfect, their tables looked gorgeous and their plants and coffee mugs and sunglasses were arranged just so?
A jigsaw puzzle might be the best way. Hear us out.
We young adults are a nostalgic bunch and getting more and more so every day. Everything from our childhoods is big again, from Lisa Frank to My Little Pony. The best trend so far is adult coloring books, which are seriously popular right now and come in every variety imaginable, from stress-relieving patterns to presidential candidate-themed.
Like coloring books, puzzles feed our hunger for childhood nostalgia and provide hours of soothing, mind-strengthening activity, but with the added bonus of photo personalization. Just choose a favorite photo (or two, or a few) from your friend's Instagram feed, and check out sites like Shutterfly, Printer Studio or even the specialized Portrait Puzzles to have the photo printed on any size, shape or piece count, from 12-piece postcard puzzles to expert-level 1,000-plus joints. Most come in around $30, so the price is right, even for a coworker or boss.
Could jigsaw puzzles be the new coloring books? Well, we can't make any promises — but as the many puzzle enthusiasts on the Internet would attest, they're admittedly pretty fun and would therefore make a solid gift. It says, "You went out and took some awesome pictures this year, so now you can stay home and never have to go out again!"
And really, what better gift is there than that?