Does Kim Jong Un Have a Hydrogen Bomb? Question of North Korea Threat Arises in GOP Debate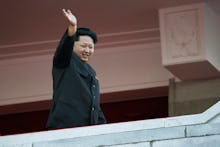 Moderator Dana Bush shifted the national security threat topic during Tuesday's fifth Republican debate from ISIL to North Korea, Kim Jong Un and his reported hydrogen bomb. Last Thursday, North Korea's leader announced through state media that the country was developing a hydrogen bomb, which is more powerful than an atomic bomb, according to CNN. 
"A powerful nuclear weapons state ready to detonate [a] self-reliant A-bomb and H-bomb to reliably defend its sovereignty and the dignity of the nation," Kim said in the statement, USA Today reported. Kim's statement has not been independently verified. 
In October, Kim said he would start a war with the U.S. to celebrate North Korea's ruling Workers' Party's 70th anniversary, according to USA Today.
Not everyone was shaken over the claim though North Korea has supposedly been conducting underground nuclear tests since at least 2013, according to CNN. It's believed that North Korea would have needed outside help to accomplish such a weapon in such a short amount of time.
Information and evidence has been difficult to verify when it comes to the secretive nation. A spokesman from the U.S. National Security Council said that the government doubts that North Korea has such a weapon, and that the claim is a demonstration of power, CNN reported.
During Tuesday's GOP debate, retired neurosurgeon Dr. Ben Carson said he believed Kim was "unstable" and that North Korea was in "severe financial straights," using its resources to build up its military rather than taking care of the citizens. "We can capitalize on that," he added, comparing containing Kim Jong-un with containing Russian president Vladimir Putin.