'House of Cards' Season 4: Premiere Date, Cast, Spoilers and Everything We Know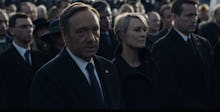 "The road to success is paved with hypocrisy and casualties," Frank Underwood, the politician-gone-rogue lead on Netflix's House of Cards, announced in a surprise ad for the show during Tuesday night's CNN Republican presidential debate. 
The ad featured Underwood, played by Kevin Spacey, in all his glory, addressing the nation from the Oval Office and revealed House of Cards season four would begin streaming on Netflix beginning March 4. The show released the trailer on YouTube shortly after:
Warning: the following article may contain spoilers from House of Cards. 
Though it would immediately appear that there isn't much to glean from the season four trailer, a closer look could provide some clues as to what fans can expect from President Underwood. Here's what we know:
The first lady wasn't shown once: Claire Underwood, played by Robin Wright, certainly had a tumultuous journey through the third season, with her leaving the White House — and the president — quite possibly forever. It's unclear what role his bonafide ride-or-die companion, played by Robin Wright, will have in the new season at this point. Here's hoping her comeback is just as ominous, intelligent and badass as Underwood's is expected to be in the new year.
Underwood is running for reelection: That's at least, according to a new campaign website launched Tuesday night, shortly after the House of Cards season four ad played during the GOP debate. Fans can flock over to FU2016.com to learn more about Underwood's policies, practices and plans for his United States of Underwood. 
It's an even more cutthroat Underwood than ever before: "These are my mottos," the fictional president states in a greeting message on the site. "I have no patience for useless things — like political gridlock and stagnation. And neither should you. Join me. Let's roll up our sleeves together. Let's plow through the stubborn and small-minded and send Washington a message loud and clear." A hashtag already going viral for the campaign is spreading across Twitter, #FU2016. If the season four storyline holds true to the promotions and marketing, it appears as though Underwood will be running for reelection while controversial business moguls like Donald Trump and Carly Fiorina vie for the White House IRL — leading some to wonder, is it possible to write-in a vote for a fictional character?
Most of the cast is returning to the fourth season: Probably one of the greatest and most highly anticipated moments of the show's fourth season will be the return of Doug, Underwood's trusty right-hand man. He faced a near-death experience in season two when he was almost killed, and spent much of season three trying to win back Underwood's support. And, while it isn't completely clear what role Wright will play, the actress has directed at least three episodes of the series already, and recently said in a panel she's excited to further try her hand at the directorial process throughout the show's fourth season, according to the Hollywood Reporter. 
"America Works" is actually working: According to Underwood's fictional campaign, the "America Works" bill the president was planning to sign into order has gone into effect, creating countless jobs and improving the quality of life for residents of Washington, D.C. Now, Underwood is planning on making the bill the law of the land, writing on the site: "After the program's success in Washington, President Underwood aims to continue his America Works program and promote the American economy through the creation of new jobs on home soil."
So, until March 4, House of Cards fans will have to look to Underwood's campaign site and the show's Twitter handle for further surprises, trailers and announcements. It's a long time coming, but just think of all the glorious binge-watching to be done so soon.