CNN Republican Debate December 2015 Transcript: Get Full Record of Last Night's Debate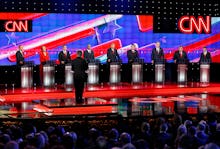 Thirteen GOP presidential contenders faced off for the fifth Republican primary debate Tuesday, hosted by CNN in Las Vegas. Policy on terrorism and immigration were two hot-button political issues that dominated much of the debate, and sparked heated exchanges between some of the candidates at the Venetian Theatre.
Terrorism takes center stage: Being that it was the first Republican debate since the November Paris attacks and San Bernardino shooting, much of the debate centered around anti-ISIS strategy, which frontrunner and business tycoon Donald Trump and former Florida Gov. Jeb Bush sparred over early on in the night. As has happened in the past, a couple candidates made not-so-subtle jabs at Trump, and Florida Sen. Marco Rubio brought up his family history during the immigration debate. 
A full, annotated transcript of Tuesday's CNN Republican debate can be found here via the Washington Post. 
Anti-Muslim rhetoric: When CNN host and moderator Wolf Blitzer pressed Trump on his recent anti-Muslim rhetoric, including his statement that all Muslims should be barred from emigrating to the United States, Trump defended his stance by arguing that "our country is out of control" and "people are pouring across the southern border." Bush fired back at Trump's response by calling him a "chaos candidate" who would make a "chaos president." 
Later in the night when Trump said that with Bush's attitude, America will never be great again, Bush retaliated by saying that Trump would not insult his way to the oval office. 
When the topic turned to immigration, Rubio employed his usual anecdotal rhetoric, explaining that he "[sees] every aspect of this problem" because his family members are immigrants and that "we will not be able to do anything on immigration until we prove to the American people that immigration is under control."
A full debate recap can be found here.