Malala Yousafzai Shut Down Donald Trump's Islamophobia in the Best Way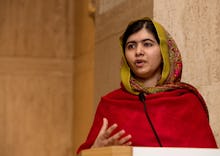 On Dec. 7, Republican presidential candidate Donald Trump said there should be a "total and complete shutdown of Muslims entering the United States," Politico reported. Many people, including other candidates, public figures and even the White House press secretary rightfully took issue with the comment. But perhaps the best response of all was just made by the world's most renowned teen feminist crusader and Nobel laureate: Malala Yousafzai.
"The more you speak about Islam and against all Muslims, the more terrorists we create," Yousafzai told the U.K.'s Channel 4 News on Tuesday. Politicians and the media should be "really, really careful about" what they say, she said.
"If your intention is to stop terrorism, do not try to blame the whole population of Muslims for it because it cannot stop terrorism," she said. "It will radicalize more terrorists."
Growing Islamophobic backlash: Trump's comment is hardly the first Islamophobic statement he's publicly made. In the wake of the Paris terrorist attacks, Trump told MSNBC he "would certainly implement" Muslim databases to track the population in the United States. He also recently told ABC News that in the midst of the 9/11 terrorist attacks, "There were people that were cheering on the other side of New Jersey where you have large Arab populations."
Unfortunately, all too many Americans seem to agree with him. In fact, nearly two-thirds of likely Republican primary voters agree with this recent proposal to ban Muslims from entering the United States and about one-third even noted Trump's statement made them more likely to vote for him, according to a Bloomberg Politics/Purple Strategies PulsePoll. 
Even beyond Trump's specific statements, some Americans maintain broader Islamophobic attitudes. One YouGov poll, for example, found 55% of Americans surveyed had an "unfavorable" opinion of Islam — a stance that was notably most common among white Republicans who are 45 and older, the Guardian reported last week.
But their hatred is hardly universal: Yousafzai's pointed comments add to a growing movement of individuals in the United States and beyond showing that Trump's feelings are hardly universal. Plenty of Muslim individuals have used humor to combat his hatred. Others are taking a more immersive route: A group of non-Muslim female students at Vernon Hills High School in Chicago, for example, wore hijabs to school as part of a project called "Walk a Mile in Her Hijab," which was created to help them better understand the Muslim faith and experience, the Siaset Daily reported Tuesday.
And this route — of education and understanding — is one Yousafzai has long promoted as the key to peace over punitive or hateful measures. As the youngest-ever Nobel laureate recently told the Telegraph, "If we want to end terrorism we need to bring quality education so we defeat the mindset of terrorism mentality and of hatred."
Watch a clip of Yousafzai speaking below:
Get the five stories that will challenge you to rethink the world by signing up for MicCheck Daily.