Lebanese Cartoonists Launch Indiegogo Campaign to Fight Censorship in Beirut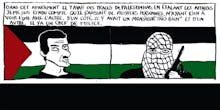 The Lebanese nonprofit cartoon collective Samandal is in dire financial straits after the central government cracked down on them with censorship charges and fines. 
Now the collective is turning to Indiegogo in the hopes of crowdfunding its survival in the wake of the government-levied fine of about 30 million Lebanese lira, roughly $20,000. 
Shortly after the publication of their December 2009 issue, three of the collective's four editors were charged with "A) inciting sectarian strife B) denigrating religion C) publishing false news and D) defamation and slander," according to a statement the group released after the trial. Each editor was individually fined 10 million Lira, which in the event of nonpayment could result in three years imprisonment.
Yet the cartoons, said Samandal on their Indiegogo page, "were taken out of context and misinterpreted through a narrow sectarian reading."
The collective "has buckled under the weight of these fines and our latest issue, 'Geography,' looks to be our last. We are launching a crowdfunding campaign in a last-ditch effort to help Samandal fight this unjust ruling and continue publishing comics."
One of the comics in question depicts an imam and priest ablaze, a literal incarnation of a local idiom expressing exasperation, the New Yorker explains. The other comic explicitly addresses homosexuality and the associated shame it carries for some. 
Samandal, which distributes its comics in English, Arabic and French, collaborates with organizations and artists around the world; the controversial issue that resulted in legal retribution was co-published with the Belgian comic collective L'employé du Moi.
Samandal's work also extends beyond publishing comic books. They have organized "workshops, comics jams, lectures and exhibitions" globally and helped run the Beirut Animated festival, per the Indiegogo page. 
The nature of this crowdfunding project marks a new phase of leveraging social media for activism. While the internet has conventionally been used to hold people and governments accountable with the mass distribution of images or videos, this is one of the first examples of activists using it to survive government censorship charges.
Watch the group's video plea below: