Watch Jimmy Fallon and the 'Star Wars: The Force Awakens' Cast Sing A Cappella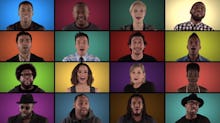 The Star Wars: The Force Awakens press tour has been filled with attention-grabbing moments, from Harrison Ford finally coming out as a Star Wars fan to Carrie Fisher dominating every interview accompanied by her pet bulldog Gary. Tuesday night, Jimmy Fallon and the Roots teamed up with The Force Awakens' cast to take the hype to a new world.
In a Brady Bunch-style set of windows, Fallon and The Tonight Show's house band joined stars of the film like Lupita Nyong'o, John Boyega and Daisy Ridley to sing an a cappella medley of iconic Star Wars music. Each introduction of a new cast member is a delight, from Adam Driver accompanied by Fallon and the Roots as Stormtroopers:
Robot pals R2-D2 and BB-8 get in on the action:
Legends like Fisher sing with ingenues like Nyong'o delightfully:
The video drops at just the right time as first reviews for Star Wars: The Force Awakens hit the web. So far, the movie is drawing an impressive 97% Rotten Tomatoes score — though spoiler-averse fans should avoid clicking on any of the reviews.
Instead, bide the time until screenings start Thursday night by watching the a cappella clip over and over again. With so many faces in the crowd, it's fun to find all the new best bits. (Fallon's reaction to Fisher's entrance is particularly choice.)
Watch the full video below.