New Lingerie Campaign Celebrates "Real" Women With Armpit Hair, Tattoos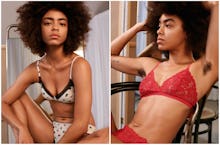 In an industry dominated by Victoria's Secret, ad campaigns for lingerie haven't been the most progressive. In almost every one, white women with "perfect" bodies arch their backs with their hair flowing just so, their skin smooth and any lines or blemishes airbrushed away.
It's getting old — and it's not even needed to draw attention to lingerie. Without a nationally televised fashion show, lingerie brands can highlight their goods by celebrating how women look in their natural states. 
That's exactly what fashion brand & Other Stories has done. In its latest campaign, called "For Women, By Women," & Other Stories has opted to show off its lacy bras and undies on a diverse set of women with tattoos, scars, birthmarks and body hair. 
The photographs were taken by Swedish photographer Hedvig Jenning and feature women slouching and lounging just like they would on any given Sunday. The models shown are also not professional models, in fact. Helin Honung is a blogger and yoga enthusiast, Kelsey Lu McJunkins is a cellist and model and Ida Jagerfelt is a copywriter. And they've all gone natural. 
Of course, the images by & Other Stories (a clothing chain launched in 2013 by H&M) aren't perfect. There's no woman who appears to be bigger than a size 12 among the bunch, and all appear to be fairly young. But it is a step in the right direction, particularly when it comes to embracing "unconventional" — by which we mean regular — bodies.
Tattoos are now so commonplace it's only natural we see them on models. And the trend for armpit hair on women is a movement that saw support this year, especially on Instagram, where women proudly posted #FreeYourPits photos.
The & Other Stories campaign is also another instance of a company saying "fuck you" to photo editing. Earlier this year, Aerie debuted the latest photos in its #aerieREAL campaign, which showcases actress Emma Roberts along with other non-fashion models of all shapes and sizes in unretouched images. 
Plus-size retailer Lane Bryant also jumped on the no-retouching bandwagon for their #ImNoAngel campaign, which celebrates women with curvier bodies. 
In 2015, companies are just now learning that if you want an audience, you better get real. And that's about to make 2016 very interesting. 
h/t Fashionista