Here's Everything You Missed During Last Night's GOP Republican Debate on CNN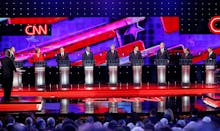 On Tuesday, CNN hosted the fifth and 2015's final GOP primary debate at the Venetian in Las Vegas. Thirteen candidates gathered in Nevada, four of whom participated in an undercard debate at 6:30 p.m. Eastern. The remaining nine candidates that polled high enough to qualify for the main event took the stage a bit before 9 p.m. Eastern. 
There was a lot riding on Tuesday's debate, considering it was the first time the Republican candidates gathered to debate since the Islamic State Group-led attacks on Paris on Nov. 13 and the recent string of gun violence in America that followed in their aftermath. 
The main debate put Republican frontrunner and real estate mogul Donald Trump front and center, bookended by retired neurosurgeon Ben Carson to his right and Texas Sen. Ted Cruz to his left. Also on stage for the headlining debate was Florida Sen. Marco Rubio, former Florida Gov. Jeb Bush, former Hewlett-Packard chief Carly Fiorina, New Jersey Gov. Chris Christie, Ohio Gov. John Kasich and Kentucky Sen. Rand Paul. CNN news anchor Wolf Blitzer and CNN's Hugh Hewitt and Dana Bash moderated the debate. 
The evening saw no shortage of attacks between the Republican presidential hopefuls, as well as a counterstrike from Trump against the moderators for asking what the business tycoon said were unfair questions meant for ratings. According to the Associated Press, Cruz wracked up the most airtime during the course of the debate with 16 minutes, 34 seconds of talking time, followed by Trump with 13:48. Rubio trailed the frontrunner closely for talking time, with 13:45 of airtime. With 7:50 of recorded airtime, Kasich spoke the least on Tuesday, just slightly less than Carson, whose total talking time ran for 8:46.
Even Frank Underwood of Netflix's hit show House of Cards had a few moments of talking time during a commercial break during Tuesday's debate.
Considering recent events, such as the deadly shootings in San Bernardino, California, earlier this month, which were carried out by two alleged Islamic jihadists and which took the lives of 14 victims, the fight against the Islamic State group, or ISIS, was a major topic of discussion during Tuesday night's debate. Hailing the conflict as the "war of our time," moderators wanted to know how the Republican candidates would defeat terrorism at home and abroad. 
Responses from the GOP candidates on ISIS varied slightly, though the majority of the candidates onstage argued for escalated military operations. "Keeping America safe" was a common chorus the candidates shared, though some took it to the extreme — Trump attempted to justify the killing of innocent civilians. 
Trump continued to ruffle feathers by standing by his proposal to shut down portions of the internet to hinder terrorists from using it as a recruitment tool, which some have likened to censorship policies in China. Bush was critical of Trump's anti-Muslim political rhetoric. Fiorina played the gender card more than once, claiming she'd been called "every 'B' word in the book" and that being challenged as a mother and as a woman in the workforce helped her to become a successful leader in the business world. Carson complained about a lack of talking time, after dedicating a portion of his opening remarks to a moment of silence for the victims in San Bernardino. 
When the conversation turned to immigration, Cruz and Rubio butted heads. When pressed by moderatos to concede that his stance on immigration somewhat aligned with Rubio's, Cruz refused and worked to make plain that on immigration he and Cruz don't see eye-to-eye. 
Bush took aim at Trump directly, calling the business tycoon a "chaos candidate" and said that if Trump were to be elected, he would be a "chaos president."
The night ended with the candidates quickly rolling through closing remarks, during time which Fiorina reminded viewers who the race for the White House was really against (former Secretary of State Hillary Clinton), Cruz evoked President Ronald Reagan to make his political platform and priorities clear, Christie returned to the topic of defeating terrorism, Paul hit on America's debt problem and promised fiscal conservatism and Trump echoed previous promises to "make America great again."