1D Carpool Karaoke YouTube Video: Watch Band Jam in a Range Rover with James Corden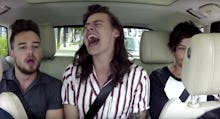 To the millions of One Direction fans and worshippers who need something to watch on repeat while the British boy band takes their recently-announced hiatus, CBS' Late Late Show host James Corden has something special for you: a 13-minute video of the four band members cruising around with Corden in a Range Rover singing along to a medley of their most popular songs on the radio. 
In the video, Corden scoops up the boys — Harry Styles, Louis Tomlinson, Niall Horan and Liam Payne — in his whip, and the five break out into epic karaoke performances of hits including "Perfect," "Best Song Ever," a choreographed dance to "No Control" and more.
In between jamming out, Corden briefly interviews the boys on their decision to fly solo for a year-and-a-half, to which Payne says that he misses his parents and they're coming to live with him while he's on break. Cue the "awwwwwws."
Watch the entire 1D carpool karaoke session below:
One Direction broke fans hearts when they announced they're taking an 18-month hiatus on Sunday before leaving their worshippers with a precious last performance on Sunday's episode of The X Factor in London. This announcement follows the November release of their latest album, Made in the A.M., which vied with Justin Bieber's Purpose for the number one spot on Billboard charts upon its debut.