Tess Holliday Sums Up the Issue With Plus-Size Clothing — and How She's Fixing It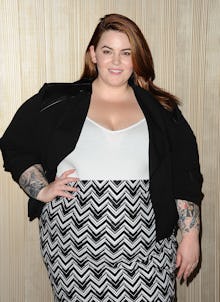 "I just can't with the butterflies."
That's the exasperated conclusion model Tess Holliday has come to after years of shopping for plus-size clothing.
The size 22 model, who shot to fame this year after being signed to agency MiLK Management and promoting body positivity with the #EffYourBeautyStandards movement, spoke to Yahoo Style about her plans for a clothing line. She made it clear that her line, which she previously announced is coming in 2016, is a direct response to the crappy clothing options available for plus-size women.
"I wanted to do something that was edgy and sexy, but then give some options for people that don't want to wear the same tired floral, leopard, cat-print stuff," Holliday told Yahoo Style.
For too long, plus-size clothes have been wholly untrendy, not to mention kind of ugly.
"There have been the most atrocious prints on plus-size garments that would never be in straight size," added Holliday. "Like, so many butterflies. I just can't with the butterflies."
Holliday is aiming to change that with her line, which is bound to be an improvement on the status quo. The frumpiness of most plus-size clothing is why the internet fell in love with WTF, Plus Size Manufacturers? in 2013, a Tumblr that called out the limited options available to curvier women. It's why this year, Jezebel felt the need to give an item-by-item review of Target's new plus-size line, which was filled with shirts that were "basically pillowcases." 
Having a wide array of trendy, cool, diverse clothing for curvier women should be the norm. After all, by some accounts, "plus-size" women — size 14 and up — account for 67% of American women, and the plus-size clothing industry is worth $17.5 billion. 
Luckily, that's finally being noticed, thanks in large part to the shoppers themselves. It was vocal bloggers, after all, who inspired Target to launch its plus-size line in the first place. Actress Melissa McCarthy decided to create her own plus-size collection this year after years of aggravating shopping experiences. And now Holliday is doing the same.
You can guarantee there will be no pillowcase-like shirts covered in butterflies in this collection.