Donald Trump Won the Fifth GOP Debate, According to Republicans Who Watched It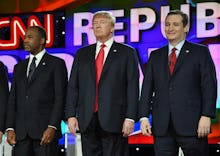 Donald Trump took the stage at Las Vegas' Venetian hotel and casino Tuesday night boasting a commanding lead in national polling for the Republican presidential race, and after the fifth GOP debate, he's unlikely to surrender that frontrunner status anytime soon.
According to a survey conducted for Mic by Google Consumer Surveys, a plurality of registered Republicans who watched the CNN-hosted debate considered Trump the winner. Mirroring larger trends in the GOP contest, Sens. Ted Cruz of Texas and Marco Rubio of Florida notched the second- and third-place positions, respectively:
No news is good news, with one exception: Given the similarity between those results and national poll numbers, we may not see a significant change in the state of play after the debate. Indeed, pluralities of Republican viewers indicated that their perceptions of Trump, Cruz and Rubio hadn't changed after watching the face-off.
A notable exception? Despite landing some powerful punches on Trump — deriding the showman as a "chaos candidate" and insisting that "you're not going to be able to insult your way to the presidency" — former Florida Gov. Jeb Bush may not benefit at all from his strongest debate performance to date. 
According to the survey, 42% of GOP viewers saw Bush in a less favorable light after the debate, while 37% said their view of him hadn't changed. Only 21% looked upon Bush more favorably. The findings underscore the growing sense that the languishing former frontrunner is likely past the point of no return, amid a GOP electorate that's shown a seemingly boundless appetite for Trumpian bombast.
The debate itself garnered largely positive reviews. With the candidates jousting over government surveillance, military intervention and the aims of American foreign policy, the national security- and international affairs-themed debate was among the most substantive of the 2016 cycle. Republican viewers variously described the debate as "good," "informative," "interesting," "substantive" and "boring."