Climate Change News: 2015 Global Warming Records Paint a Grim Picture for the Arctic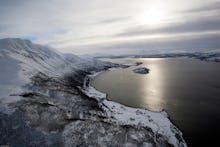 Average air temperature above the Arctic region in 2015 were two degrees Fahrenheit higher than the normal average and the highest on record dating back to 1900, the National Oceanic and Atmospheric Administration announced in a statement on Tuesday. In fact, it's getting so warm, Arctic animals including fish species and walruses have been forced to move.
"Now in its 10th year, the Arctic Report Card is a key tool to understanding changes in the Arctic and how those changes may affect communities, businesses, and people around the world," NOAA chief scientist Rick Spinrad said during a press conference Tuesday at the American Geophysical Union Fall Meeting in San Francisco. 
What the NOAA found: The findings are from an NOAA-sponsored report that shows air temperature over the Arctic region is warming at two times the rate of the rest of the world. According to the report, this warming effect directly threatens global climate change, security and trade.
Among the studies findings were that the Arctic average air temperature has increased 2.3 degrees Fahrenheit above average Arctic temperatures, the highest since since record-keeping began in 1900 and 5.4 degrees Fahrenheit since the turn of the 20th century. More than 50% of the ice sheet over Greenland melted in 2015. 
A multitude of studies and articles in 2015 shed light on the impact of global warming in the Arctic. In November, scientists from the University of California, Irvine, reported that a glacier named Zachariae Isstrom has been melting at an accelerated rate, and if the entire thing melts, it could raise the sea level by 18 inches or more. 
Global warming a contentious issue: In July, environmental activists dangled from a bridge in Portland, Oregon, to prevent a Shell oil-drilling ship from passing through in a quest to drill oil in the Arctic after President Barack Obama made a controversial decision to approve Shell's project. 
"Here are two facts that cannot be reconciled," the Washington Post's Eugene Robinson wrote in an opinion piece published in May. "The planet has experienced the warmest January-through-April on record, and the Obama administration has authorized massive new oil drilling in the Arctic Ocean."
In august, National Geographic created a GIF that visualizes how much the ice has melted in the Arctic over the last 15 years.