Reauthorized 9/11 First Responders Bill Still Doesn't Sit Well With All Its Beneficiaries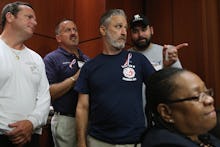 In July 2014, officials from the World Trade Center Health Program at Mount Sinai Hospital told the New York Post that at least 2,500 "Ground Zero rescuers and responders" have cancer. Fourteen months later, Congress allowed to expire the law that had provided 9/11 first responders free medical benefits since it was first became law in 2010.
But after months of painful negotiations, Congress is now on track to reauthorize the James Zadroga 9/11 Health and Compensation Act to protect those responders who worked atop the so-called "pile," where they were directly exposed to hazardous dust and debris. If all goes according to plan, Congress will allocate $8.1 billion to fund the measure as part of a must-pass omnibus spending bill that will be critical to finance government operations in 2016. Unlike its previous incarnation, the updated act will be authorized for 75 years — until 2090.
"This agreement is incredible news for our 9/11 heroes and their families, and it is a testament to the extraordinary power that Americans can have when they raise their voice and demand action," New York Sen. Kirsten Gillibrand, the lead sponsor of the legislation in the Senate, said in a statement to Mic. "This is the Christmas the 9/11 responders deserved: some peace of mind for each and every hero."
Others, however, were not so quick to declare victory. Among them is 9/11 first responder John Feal, who has been at the forefront of the fight. "We're dealing with Congress, anything can happen," he told Mic. "I do think it will pass. I am confident that Congress will do the right thing. But until the omnibus actually passes, what's there to get excited about?"
Feal, who heads up advocacy group the FealGood Foundation, said he received a personal promise from Congressional leaders that they would extend the benefits, but he's not ready to applaud Congress for their efforts: "They're going to call this a Christmas miracle. In 2010 they called it a Christmas miracle. I call it hard work."
Feal's wariness has precedence. Only weeks ago, the act seemed destined for a home in a federal highway bill before it was abruptly pulled, reportedly by Sen. Majority Leader Mitch McConnell, who was angry about not winning a concession about reducing oil export regulations. (A McConnell spokesperson disputed this claim.)
"I take no comfort in this bill getting passed," Feal said. "Congress and the Senate stained it by playing politics with human life." 
The ace in the hole: While the lobbying by Feal and other activists did was no doubt instrumental, the white knight of the cause was former Daily Show host Jon Stewart. Stewart played a major role in passing the original bill in 2010 with his unrelenting and blistering coverage of the issue. But now, without his national platform, Stewart went to Congress personally to demand with redress, with Feal and other first responders at his side. 
"I cannot bring heroism or integrity to this process," Stewart said during a press conference in Washington, D.C. earlier this month. "I can only bring cameras, and hopefully a sense of public shame." Standing with Stewart, Feal wagged his finger in the face of Ohio Sen. Rob Portman, who originally opposed reauthorizing the Zadroga Act, citing finances. "When you guys want to find money, you know you can find money," he said. "So that 'paid for' stuff, it's not passing the litmus test with me."
"It was very gracious of [Stewart] to come down and I think that's what really got the media so involved," Michael McPhillips, a 9/11 first responder with New York Waterway and director of social services and benefits for the FealGood Foundation, told Mic. 
While Stewart advocated for many issues on his show during his famous "Indecision" presidential coverage or after mass shootings like those in Charleston, South Carolina, Stewart's support for 9/11 responders was among his most impassioned and consistent. He has been intimately and publicly connected to the issue since he delivered an emotional monologue on his show, nine days after the 2001 attack.
Something everyone agreed on, however, was that if the Zadroga Act passes in its current form, a 2090 expiration date means it will be the last time such a Christmas miracle will ever be invoked. Feal said he was glad for that, but offered some curt advice to lawmakers going forward:
"My motivational quote for Congress is, if you don't want to be an asshole anymore, stop being an asshole."