Here Are the Most Searched Names and Terms of 2015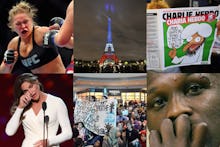 2015 was quite a year for search. Millions were glued to their screens as the world followed the Paris terror attacks. Twenty million people used Google to learn more about the Iran nuclear deal announced in July, and well over 360 million people were introduced to Caitlyn Jenner in June. Black Lives Matter and same-sex marriage received over 100 million searches as history was made throughout the world.
Google reports at least 3.5 billion searches made each day — or 40,000 per second, to put it in perspective. As the art of searching through the vast internet becomes more complex with each year, the things people look up reveal interesting clues into the world's culture, as well the events shaping life in 2015. 
Take a look back on the wild ride of 2015 through Google's top 10 most searched terms of the year:
10. American Sniper
9. Caitlyn Jenner
8. Ronda Rousey
7. Fallout 4
6. Furious 7
5. Paris
4. Jurassic World
3. Agar.io
2. Charlie Hebdo
1. Lamar Odom
Correction: Dec. 16, 2015