ABC Democratic Debate 2015: Early Preview and What You Need to Know About Saturday Debate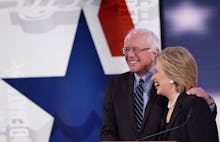 On Saturday, ABC will host the third Democratic primary debate at Saint Anselm College in Manchester, New Hampshire. ABC will livestream the event, which is scheduled to begin at 8 p.m. Eastern and feature just three candidates — former Secretary of State Hillary Clinton, Vermont Sen. Bernie Sanders and former Maryland Gov. Martin O'Malley. ABC's David Muir and Martha Raddatz are the moderators.
The candidates: With only three candidates in the running for the Democratic presidential nomination, it's not exactly a tight race judging by the polls alone. According to the Huffington Post's most recent data, Clinton is leading with a majority at 53.8%. Sanders trails with 30.6%, followed by O'Malley, who is polling far below, at 2.7%.
The issues at hand: The last time all three candidates gathered onstage for a national debate was at Drake University in Des Moines, Iowa, on Nov. 14. The second Democratic primary debate, which CBS News hosted and which John Dickerson moderated, fell one day after the Islamic State group, or ISIS, carried out deadly terror attacks in Paris. As such, the topic of terrorism, foreign affairs and homeland security dominated the debate. 
Since that time, more gun violence has erupted across America, including a mass killing by two Islamic jihadists in San Bernardino, California, on Dec. 2. The incident marked the second most-deadly mass killing since the 2012 shooting at Sandy Hook Elementary. Seeing that gun laws haven't changed much since 2012, and considering it's a topic that the Democratic candidates have sparred on before, gun control will likely be a talking point during Saturday night's debate.
By contrast, gun control wasn't a hot topic during Tuesday's GOP primary debate, where the Republican candidates largely sounded off on strategies to defeat terrorism at home and abroad. The debate put Republican frontrunner Donald Trump front and center, as he spewed familiar and highly polarizing anti-Muslim rhetoric.
And if the fact that ISIS and, by proxy, immigration, dominated Tuesday's GOP debate, the Democratic debate on Saturday may follow suit, and the candidates could be tested on how best to battle domestic and foreign terrorism. 
Saturday night's debate appears to be Clinton's to lose. At the end of the second debate, some argued that Clinton successfully kept her composure and maintained a strong upper hand on her challengers, while leading in the polls by a landslide.