Watch 'The Voice' Winner Jordan Smith's Final Performance Video of "Climb Every Mountain"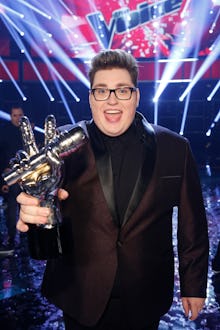 Kentucky native Jordan Smith was announced Tuesday night by host Carson Daly as the viewer-chosen winner of season nine The Voice. Blake Shelton's Emily Ann Roberts came in second and Barrett Baber was third place; Gwen Stefani's Jeffery Austin finished fourth. 
For Monday's finale performance episode, the finalists performed a final song, sang a duet with their coach and also performed a Christmas song. Smith sang Michael English's Christmas song "Mary, Did You Know?" Alongside Adam Levine, he performed the Beach Boys' "God Only Knows." His main performance was "Climb Every Mountain" from The Sound of Music.
Smith's rendition of "Mary, Did You Know?" No. 1 on iTunes, according to People. He's no stranger to the list, having knocked Adele off the top spot before. 
After hearing he won, Smith's family and Levine went onstage to congratulate him, according to People. Other stars also performed during Tuesday's finale, such as Justin Bieber, Missy Elliott and the Weeknd.
"I'm at the foot of a huge mountain right now and the hard work is really about to start," Smith said at the after-show press conference, according to USA Today. Levine agreed, expressing his hope for record labels to pick Smith up. 
Smith, 22, arguably secured his winning place with last week's performance of Queen's "Somebody to Love," which Levine called "the best thing" he'd ever seen in his life. Smith comes from a musician family, and has performed in both his church choir and school. 
The Voice will return next year for its 10th season, with Christina Aguilera returning as a coach, People reported.
Listen to the three final performances by Smith below: