Larry Wilmore to Host White House Correspondents' Dinner in 2016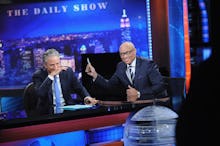 The White House Correspondents Association announced on Wednesday who the host of its annual dinner will be in 2016: comedian Larry Wilmore of Comedy Central's The Nightly Show With Larry Wilmore. The event will be held on Saturday, April 30. Wilmore's incisive, no-punches-pulled sense of humor made him a stand-out candidate for the job, according to the WHCA's announcement.
"Larry's edgy, even provocative, brand of humor means he's certainly up to the task of skewering politicians of all ideological stripes," said Carol Lee, who is both the president of the WHCA and a Wall Street Journal White House correspondent. "And we don't expect the nation's news media to escape unscathed, either." 
Who is Larry Wilmore? The host of The Nightly Show is, according to his Comedy Central profile, an actor, comedian, writer (credits include The Fresh Prince of Bel Air, The Office, In Living Color and The PJ's) and producer (of both Black-ish and The Bernie Mac Show). Wilmore was the creator, a producer and a writer for The Bernie Mac Show and won the 2002 Emmy for outstanding writing for a comedy series, as well as a Peabody Award in 2001.
Before The Nightly Show, Wilmore served as The Daily Show's "Senior Black Correspondent" and hosted Larry Wilmore's Race, Religion & Sex on Showtime. 
What is the White House Correspondents' dinner? Each year, the WHCA — which "represents the White House press corps in its dealings with the administration on coverage-related issues" and is headed by a nine-member, elected board — holds a dinner, proceeds from which are translated into scholarships and journalism awards, which the association gives to deserving reporters. POTUS and FLOTUS will attend, along with high-ranking government officials, celebrities and, of course, the press. 
Saturday Night Live's Cecily Strong hosted the 2015 dinner. Celebrity guests included Laverne Cox, Chrissy Teigen, Martha Stewart, Modern Family's Julie Bowen and Jesse Tyler Ferguson, models Chanel Iman and Adriana Lima, Alfre Woodard and Jane Fonda. The president typically speaks at the dinner; President Barack Obama brought his jokes to the most recent dinner.
Dec. 16, 2015, 1:37 p.m. Eastern: This article has been updated.