Michael Jackson's 'Thriller' Becomes the First Album in History to Go 30 Times Platinum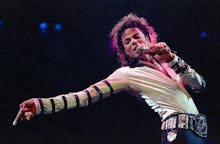 The once and forever king of pop added yet another jewel to his crown Wednesday. In an announcement shared through Billboard, the Recording Industry Association of America reported that Michael Jackson's Thriller has gone 30 times platinum, becoming the first album to achieve the milestone. Thriller's legacy as one of America's most impressive and important musical achievements is even more assured than before.
Jackson and his producer Quincy Jones knew they were crafting a classic long before they released the album in 1982. They were not going to settle for anything less. Jackson's previous album, Off the Wall, was extremely successful, spawning a then record-breaking four top 10 hits and winning a Grammy Award for "Don't Stop 'Til You Get Enough." However, it missed the bigger awards. 
"It was totally unfair that it didn't get record of the year," Jackson said at the time. "It can never happen again."
To craft an even more explosive follow-up, he turned to the inspirations from his childhood. "Ever since I was a little boy, I would study composition," he told Ebony in 2007. "And it was Tchaikovsky that influenced me the most. If you take an album like Nutcracker Suite, every song is a killer, every one. So I said to myself, 'Why can't there be a pop album where every [song is a killer]?'"
Jones and Jackson went through about "700 demos," according to Gail Mitchell, Billboard's R&B senior correspondent, and pared that down to nine — four written by Jackson himself. That due diligence paid off. Seven of the album's nine songs become top 10 singles. It took home a record-breaking eight Grammys, including album of the year, still the most awarded to a single album. It became the best-selling album of all time in just a year after its release.
Thriller was also the first album to break 20 times platinum, doing so within two years of its release.
"It is crystal clear that Michael Jackson is simply the greatest and biggest artist of all time," L.A. Reid, Epic Records chairman and CEO, said in a statement accompanying Wednesday's news. "Not only are his charts hits and sales stats staggering, but his pure musicality was other-worldly. Thriller was groundbreaking and electrifying ... it was perfection. I am extremely proud that Michael is the heart and soul of Epic Records and he will forever remain the one-and-only King of Pop."
Watch the album's iconic title video — the only music video in the Library of Congress — below.