Jennifer Lawrence Says It's "Not A Sad Thing" To Be Single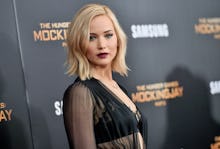 In a Vogue interview last month, Jennifer Lawrence was candid about her struggles as a single twenty-something lady looking for love. 
"No one ever asks me out. I am lonely every Saturday night," she told the magazine, prompting the Internet to explode with a thousand little "J. Law is a lonely old cat lady" articles. 
In a new interview for the New York Times TimesTalks series, however, the Academy Award winner and highest-paid actress in Hollywood clarified her statements, assuring the world that just because she's single, she's not some sad sack old maid waiting for a prince to swoop in and rescue her from her depressing, dickless existence. 
In fact, she's (gasp!) kinda cool with being alone.
"This is the problem with press," Lawrence said to interviewer Maureen Dowd after Dowd brought up the Vogue comments. "When you're talking and you're like hanging out with somebody... it's very different when it's written. I'm not a lonely person. I never feel lonely... I'm like, 'everybody thinks I'm alone every Saturday night.' You say it like that, and then it's on print, it's like, [sad voice] 'I'm alone every Saturday.'
"It's not a sad thing to be alone," she added.
In the original Vogue piece, Lawrence was quoted as saying that "guys are so mean" to her and she "can't wait to be married." But she told Dowd that she's actually not in any rush to settle down. 
"I think what I was trying to get across, which didn't come across, was I was saying I don't feel a lack of something not being a relationship," she said.
And then she continued with this delightfully Jennifer Lawrence-y moment:
Indeed, it shouldn't be such a shock that a woman might be OK with her single status. A Gallup poll from earlier this year reported that 60% of women between the ages of 18 and 29 identify as single. Research has also proven that there are serious benefits to not being a relationship, such as having a richer social life or even being in less debt. (Not that J. Law, who reportedly made $52 million before taxes last year, would ever have that problem.)
So don't worry, America — J. Law isn't wiling away her days sitting by the telephone, brushing cat hair off her sweater, eating a can of tuna and anxiously waiting for that 50-year-old accountant she met at Just Salad to call. She's doing just fine. Now that we've finally cleared that up, we can go back to talking about other, more important things, like how her new movie is supposed to be good or something.
h/t Vanity Fair