Christmas Gift Guide: Mini Drones For Cheap Prices at Walmart, Target and Amazon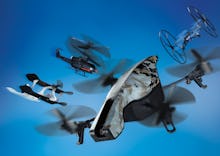 Mini drones are one of the hottest items on Christmas lists this year — but they're flying off shelves and are getting harder to track down as Christmas quickly approaches. 
If finding one of these small floating gadgets is on the holiday to-do list, fear not: There are a number of locations, both online and in-store, where mini drones can be found. Below are several options with prices (all as of press time):
Walmart: The X-Copter 2.4 GHz Micro Quad Copter is $29.99 at Walmart, with a $10 discount applied in lieu of the holiday season. The store is also offering free pickup and, if delivered, the mini drone should arrive before Christmas if ordered early or expedited. 
The Air Hogs Helix Ion Drone 2.4 is currently priced at $29.80, featuring four propellers.
If the purpose of buying the drone is to record video while the gadget flies through the sky, the Air Hogs Altitude Video Drone may be the best bet, though it's a tad pricier than the other options. The drone can be purchased at Walmart for $49 — originally priced at $59.97.
Target: Though prices seem somewhat more expensive than Walmart's, the national chain offers a variety of mini drones to choose from with a slew of unique features. The Sky Viper M200 Nano Stunt Drone, capable of zipping around and performing cool tricks, runs for $29.99.
The Sky Viper Stunt Drone, a larger version of the previous with more power and speed, costs $49.99.
The Syma Sky Thunder D44 Dragonfly Drone 4.5 Channel falls right in-between the two, costing $39.99. 
Amazon: Amazon offers dozens of options when it comes to mini drone, and it's perhaps where shoppers can find the largest assortment of drones to choose from out of the three stores listed. Prices range anywhere from $20 to upwards of $100, with most falling underneath $50.
Customers hoping to find a video drone can purchase the Syma X5C Explorers 2.4G 4CH 6-Axis Gyro Quadcopter with an HD camera for $44.99 or get a memory card bundle with the drone for $60.98.
A similar product is the Hubsan X4 4 Channel 2.4GHz RC Quad Copter, complete with a camera and remote-control. Though the mini drone is relatively identical in features and functionality as the previous, an edgy black and red design makes this drone appear tough and dangerous, for $54.99. 
Check out Amazon's search list for mini drones here. 
Correction: Dec. 16, 2015