The Strokes New Album Could Come in 2016 — Here's What They've Been Up to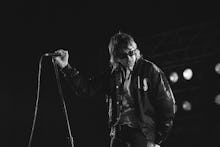 While headlining Mexico's Live Out Monterrey Festival this past week, the Strokes stopped by two of Victoria Records' studios for possibly working on their upcoming album, according to an Instagram post by the studio's CEO Victoria Morales-Kuhne. The band's frontman Julian Casablancas had alluded at a new album, which would be their fifth, in September while performing at the Landmark Music Festival in Washington, D.C.
The band used the studios to rehearse but also record some drum tracks, according to Consequence of Sound.
"It's the first time [the Strokes have] been exclusively writing since Comedown Machine," Casablancas told Noisey earlier this year. "We're planning on recording stuff, I still think we could do cool things and I'll do that."
In September, guitarist Nick Valensi's wife Amanda de Cadenet tweeted, somewhat confirming the new album.
But in June, guitarist Albert Hammond Jr. denied any new material being underway, telling BBC 6 Music, "No. I don't even know if we're going to play any more shows," according to Gigwise. Hammond's third solo album Momentary Masters dropped in after that interview in July, according to Pitchfork. Hammond is also missing from the Instagram image. 
Casablancas and his new band the Voidz also dropped their own album Tyranny in September 2014, according to Consequence of Sound. But in August, they canceled their North American tour, Rolling Stone reported. His cover collaboration covering the 1983 song "Boy-Girl" with Savages front woman Jehnny Beth is set to come out Dec. 18, according to Diffuser.fm. 
The last Strokes' album Comeback Machine was released in 2013.