New York State Agrees to Reform Practice of Solitary Confinement in State Prisons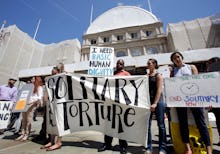 On Wednesday New York state proposed an overhaul of the use of solitary confinement in its prisons. The announcement comes 11 months after New York City banned the punitive measure for prisoners under 21. 
The $62 million agreement is the direct result of the Peoples v. Fischer class-action lawsuit brought by the New York Civil Liberties Union in 2012. The plaintiff, Leroy Peoples, alleges he spent 780 days and later an additional six months over two separate periods of time isolated in an elevator-sized cell at the Upstate Correctional Facility. Both instances came as result of nonviolent infractions: filing false legal papers and possessing dietary supplement pills respectively.
"It will touch every part of the prison system['s] ... reliance on solitary confinement — who goes in, how long they're there and the conditions they're in," Taylor Pendergrass, the NYCLU case's lead counsel, told Mic. "It's a holistic effort that we think will fundamentally change the culture in the prison system."
"It's a holistic effort that we think will fundamentally change the culture in the prison system."
Under the agreement, "petty infractions," says Pendergrass, will no longer be grounds for solitary confinement. According to Solitary Watch, which reports on issues related to the practice, it's not just by-the-book infractions that have a precedent of earning prisoners time in the "box" but things like sexual preference, mental illness or the choice to report inmate abuse. Before the lawsuit, he said, inmates could be placed in isolation at the will of officers. 
Wednesday's settlement, which is set to go into effect over the next three months, should overhaul the system entirely, Pendergrass said, "lowering the maximum and making solitary confinement less available as a punitive measure." Over the next three years, he added, solitary confinement blocks will be transformed into more "rehabilitative spaces," with group exercise rooms and other group spaces to allow for human contact. 
"I don't think any prison system of this size ... has ever taken on such comprehensive and sweeping reforms all at one time," he said.
Though prison officers can refer to it as "segregation" or "restrictive housing," studies show solitary confinement is closer to psychological torture. In 2006 article, psychiatrist Stuart Grassian wrote, "I have observed that, for many of the inmates so housed, incarceration in solitary caused either severe exacerbation or recurrence of preexisting illness or the appearance of an acute mental illness in individuals who had previously been free of any such illness." Grassian noted that these results are "strikingly consistent" and include hallucinations, panic attacks, memory lapses, obsessive thoughts and delirium. 
As in the prison system at large, reports show people of color suffer disproportionately from this punishment. "You start on the street," Pendergrass said, "with more people of color arrested, then more people of color in prison and then more people of color in solitary. It's an escalating effect."
Inmates have long documented the the psychological duress of isolation. In 2014, the Center for Investigative Reporting interviewed Ismael Nazario, a former teen inmate at New York City's Rikers Island. Nazario said:
You just get angry with hearing people constantly hollering all day. There's so many people that have been in that cell and screamed on that same gate, it smells like a bunch of breath and drool. ... There came a time when I cried when I was on Rikers Island, in the box, when I was there by myself. There's times, you know, sometimes you need a good cry.
Doug Adams, a retired corrections officer who worked in the New York prison system for 25 years, acknowledged the psychological effects solitary can have on prisoners. Some people do well, some don't, he told Mic. But Adams said that if inmates are in distress, officers will remove them from solitary and get them help.
"If they're beating around in there, [officers] won't leave them in there to hurt themselves," Adams, who worked at a maximum security women's facility and two medium security facilities in the state, said. "I promise they don't last long in there, and [officers] get them to a psych center."
Adams also said that, in his experience, the existing process for placing someone in solitary confinement is a bureaucratic one that does not allow for officers to throw people in isolation by whim. Instead, he said, officers must go through several approval processes, including that of officials in Albany, who will review the sentence and act as the final arbiters. At any point the sentence can be reduced, and the entire process should take no longer than 21 days, he said. 
Still, for those who believe this existing system is flawed, Wednesday's decision was a big win. 
"Solitary confinement is mental torture that I wouldn't want anyone to experience," Peoples said, according to the NYCLU's press release on the case. "A major milestone has been accomplished today."