The Rise and Merciful Fall of the Man Bun, the Most Inescapable Trend of the Year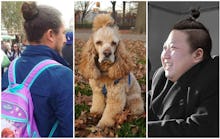 The good news is that it's nearing the end of December, so for some of us, Santa Claus is coming to town to bring us good tidings and good cheer. The bad news is that even he probably has a man bun. 
How did this tuft of male hair become so despised? How did it envelop every pure, joyful thing we have left on this planet? Well, it happened gradually. In January, we were praising dudes who somehow pulled off the lil' dollop of hair. By December, man buns had become a clip-on monstrosity.
So to celebrate it for hopefully the very last time, let's look back on the year in man buns, from their joyous rise to their slow, painful decline.
May they rest in fucking pieces. 
January: We were young, naive and thought all men with man buns were hot. 
Long, long ago, when the year was fresh and full of promise, we thought that men with hair buns were worth our time. We were in our honeymoon phase, intoxicated by a high, perky bun on a handsome fellow. We looked forward to Mondays only because of Man Bun Monday. We drooled over bunned men taking pictures of their food or even kissing their dogs.  
What we didn't know is that we were setting the stage for the man bun to take over the world.
February: Man bun vigilantes run amok. 
In February, terror struck. A crew of vigilantes (in the form of comedy troop Derick Watts and The Sunday Blues) took to the streets of Cape Town, South Africa, to "stop the knot." Enraged by the recent boom of buns, which they said in their video explainer resembled the tops of onions (they're not wrong), the comedians raced around cutting knots off of unwilling, unaware men. Several news outlets even reported that the act was viewed as a form of assault. 
There were surely other ways to rid the trend than this. 
March: Not even the dogs are safe.
By March, the most popular hairstyle among your least favorite ex-boyfriends had breached new territory: dogs.
Those poor little nuggets of undying love were now being forced to wear their cute little hairs in a high top knot, rebranded as so-called "dog buns." As a society we were now making them suffer and resemble your crush from the bicycle store. 
They didn't ask for this. They didn't deserve this. 
April: ASOS pranks us with "clip-on man buns" and the world chuckles in amusement.
Here's a bit of foreshadowing for you: For April Fool's Day this year, online retailer ASOS decided to fake-launch a product called the "clip-on man bun." Teased on the product site with, "If you want to up your man's boardroom credentials and certifying him as an Adonis, we have the answer: the clip-on man-bun," it was pretty obvious that it was a prank. 
In a few months, it wouldn't be so funny after all...
May: Our commitment to man buns starts wavering when it comes to dating.
As they spread to ubiquity, no longer unique and edgy, our love was beginning to falter. According to a survey by West Coast Shaving published in May on male grooming trends from the past 10 years, 58% of more than 1,000 female interviewees said that they would not date anyone with a man bun. But were we really ready to toss them out?
June: We celebrate National Man Bun Day by still lovin' it.
Based on a number of algorithms having to do with Twitter mentions and visits to WhatNationalDayIsIt.com, it was decided that June 11 is National Man Bun Day.  ¯\_(?)_/¯
July: Dudes with man buns are still hot... maybe?
What can we say? We were confused. As Mic reported in July, the attraction people the world over have to man buns could be explained by many things. In part, it's about this affection for the lumbersexual and this apparent hypermasculinity that comes with beards and long hair. 
However, our love was beginning to falter.
August: The internet discovers "Man Buns of Disneyland." 
Think of the Instagram account Man Buns of Disneyland as a little like we're tagging endangered animals out in the wild, but it's really about tagging attractive men with their hair in a bun, with their children. 
Totally not creepy at all. Although the account had been active for a while, August was when the press received word of it. With outlets calling it "enchanting" and "happiest place on Instagram," clearly not everyone had grown tired of the hair trend just yet. 
And the account still has more than 60,000 followers. 
September: Uh oh, men with buns are going bald.  
Apparently looking like you're employed full-time at a farmers market does come with a risk. 
In September, Mic reported that man buns had started to cause some men to go bald. By pulling the hair into a tight knot, men have been experiencing what's known as "traction alopecia," which happens when there's added traction, strain and pressure on the hair follicles, causing the hair to fall out. Doctors are seeing the effects of man buns in the loss of hair particularly along the front hairline on men, so hello, receding hairline. 
October: Kim Jong Un gets a man bun, and a million nightmares are born.
When an Australia-based online graphic marketplace DesignCrowd issued a challenge to Photoshop man buns onto world leaders, we knew it was close to the end. More than 100 people participated and what we saw was a glimpse into the future if the man bun trend cannot be stopped. 
Kim Jong Un with a wispy man bun. Bill Clinton with a man bun. The world would, simply, be a much stranger — and worse — place. I mean, imagine flipping open a history textbook and seeing Abraham Lincoln rocking a topknot. Maybe this is what really got us thinking realistically about how immediate the man bun trend needs to be stopped. 
November: Fuck it all: Clip-in man buns actually exist.
Remember when we told you that this wouldn't be so funny a few months down the line? Well it isn't. 
The clip-in man bun, once an April Fool's joke, became a reality in November, and we still haven't recovered. It was all thanks to a super cheap Groupon that marketed the clip-in accessory, which resembled a biscuit made of hair, for $9.99, down from an astronomical $65.34. Now that it was so clearly going too far, the internet seemed to have finally come to its senses, calling the hairy barrette a "horror" and "ridiculous." 
And we don't disagree. 
December: Our last hope, Santa Claus, goes full-on hipster with his own bun. 
OK, so here's the last straw. This is when we know we've gone to far. This is when we know a trend is no longer cool: Santa Claus is participating. 
Hailed as "Hipster Santa," this nice-looking man from Portland, Oregon, (obviously) sports a puffy white beard, a holiday sweater and a genuinely jolly demeanor — but he's got a damn man bun. We don't know how old he is (how old is Santa, anyway?) but this is just wrong. Santa should be a man with classic, timeless taste and survive entirely off of cookies children make him out of love. 
Mr. Claus pairs that man bun with skinny jeans and thick-rimmed glasses, KXAN reported. He's also apparently health conscious, having traded in his reindeer and sleigh for a bicycle. This makes us genuinely want to cry a little.
As you can see, this has been a year of ups and downs for that very perky puff of hair on the back of your ex-boyfriend's head. For a while, people were OK saying that they worked on some dudes (and we're not saying they don't). But 2016 deserves more innovation for male grooming habits. At this point, we'd be OK with glitter beards being a thing at parties, or even a decent crew cut coming back. 
Just anything but this. Please, anything but this. 
Read all of Mic's year-in-review coverage here.