Tech Gift Ideas for Christmas 2015: Fitbit, iPhone and Apple Watch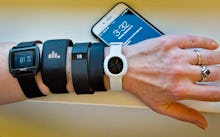 The deadline for Christmas shopping is approaching but consumers racing against the clock can still find great gifts for the most tech-savvy recipients on their shopping list. 
For fitness-lovers, Fitbits are the essential wearable device. 
The Fitbit Charge HR adds an optical heart-rate sensor on top of the device's core capabilities, namely tracking steps, calories and sleep patters. The wearable device sells for $149.95 on B&H Photo-Video and HRM USA, according to CNET, but shoppers can also find the device discounted to $135 via Adorama. 
The Apple Watch is a safe bet for shoppers in the market for a wearable device. The catch with the Apple Watch is that the recipient must also be an iPhone user, as the smartwatch needs to pair with an iPhone to function. According to Apple, the devices are available in 20 different models, with a variety of design choices, and prices start at $549. 
Likewise, the iPhone 6 or 6S is a surefire win for any tech lover who is hoping for an upgrade this holiday season. By going directly to the source, current iPhone users can trade in their old models to receive a deal on the iPhone 6 or the iPhone 6S
Depending on the plan and carrier package, the iPhone 6S goes for $649.99 via T-Mobile USA, $199.99 via AT & T Wireless, $699.99 at Best Buy and $669.99 via Amazon.com, Cnet reports. 
Happy hunting.