Here's What You Need to Know About Ted Cruz's Record on Immigration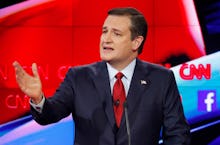 In one of the most spirited exchanges during Tuesday's Republican presidential debate in Las Vegas, Sens. Marco Rubio of Florida and Ted Cruz of Texas tussled over their respective records on immigration reform. Cruz laid into Rubio for cooperating with Democrats to craft a major immigration overhaul in 2013, while Rubio ripped his interlocutor for his allegedly murky stance on the issue. 
"I'm puzzled by his attack on this issue," Rubio said of Cruz. Addressing his Senate colleague directly, Rubio continued: "You support legalizing people who are in this country illegally, and supported a 500% increase in the number of H-1V visas and support doubling the number of green cards. I think what is important for us to understand is there is a way forward on this issue, and when I'm president I will do it."  
"I led the fight against his legalization and amnesty bill," Cruz countered. "I have never supported legalization and do not intend to support legalization." That response was the most definitive stance Cruz had offered in months; throughout his campaign, Cruz has evaded queries about how he'd handle undocumented immigrants already in the country.
But Cruz's response glides over crucial aspects of his immigration record. Though Cruz indeed opposed the 2013 reform package Rubio helped spearhead in the Senate, his history on the issue is more complicated than his emphatic declaration let on.
That history has taken on newfound significance in light of Cruz's surge to the front of the pack in the kickoff to Iowa caucuses; as the fire-breathing conservative gains traction, top figures in former Secretary of State Hillary Clinton's campaign are signaling they expect to face Cruz in the general election. Should the pair face off in November, Cruz's immigration stance is certain to be a central point of contention.
The record: Cruz got his start in national politics as a staffer on George W. Bush's 2000 presidential bid. Bush, who would make an unsuccessful push for a comprehensive immigration overhaul in his second term, pledged during the 2000 campaign to quicken the immigration application process, offer more work visas and allow family members of immigrants to visit the United States before their immigration applications were completed. And as the Atlantic detailed in 2013, Cruz helped develop these reform-minded proposals. 
Speaking with the Atlantic, Bush campaign veteran Charles Foster expressed disappointment that Cruz, then in his first year in the Senate and a fierce opponent of the immigration reform effort, was "acting like a typical politician and just talking about the border being out of control."
"I'm disappointed in Ted because he's a very bright, articulate lawyer with a substantial base of knowledge about immigration," Foster told the magazine. 
Of course, there's a difference between applying your knowledge set as an aide working for an elected official and being an elected official with your own policy agenda. And upon arriving in the Senate, Cruz staked out a position against the path to citizenship for undocumented immigrants contained in the bipartisan "Gang of Eight" bill Rubio helped author.
To stonewall reform, Cruz opted for a circuitous route. 
The freshman senator introduced an amendment to the Gang of Eight bill stripping the path to citizenship but leaving intact worker permits and green cards that would authorize migrants to stay in the country. 
"In my view, any bill that insists upon [a path to citizenship] jeopardizes the likelihood of passing any immigration reform bill," Cruz argued at the time, asserting that conservatives in the House of Representatives wouldn't stand for a path to citizenship.
But Lynn Tramonte, deputy director of the pro-reform group America's Voice, told Mic that Cruz's amendment wasn't a good-faith effort to pass an immigration reform bill. 
"He was trying to undermine the bill" with a poison-pill amendment, Tramonte said. 
That's not just the line coming out of the pro-reform camp, though: A Cruz campaign adviser told the National Review this year that he offered his amendment in the hopes that it would derail the entire bill. And appearing Wednesday night on Fox News' Special Report With Bret Baier, Cruz himself suggested his 2013 efforts were part of an underhanded scheme to defeat reform.
"The fact that I introduced an amendment to remove part of the Gang of Eight bill [the path to citizenship] doesn't mean I support the rest of the Gang of Eight bill," Cruz told Baier. 
"Bret, you've been around Washington enough. You know how to defeat bad legislation, which is what that amendment did. It revealed the hypocrisy of Chuck Schumer and the Senate Democrats and the establishment Republicans who were supporting them."
What Cruz isn't telling us: Cruz knew his anti-citizenship amendment wouldn't make its way into the bill; speaking during a June 2013 hearing of the Senate Judiciary Committee, he conceded the odds were long. But in making the case for his approach, Cruz touted the path to legalization he'd preserve for undocumented immigrants.
"The 11 million who are here illegally would be granted legal status once the border was secured — not before — but after the border was secured, they would be granted legal status," Cruz said at the time, in language that starkly contradicts his Tuesday night claim that he's never supported legalization. "And indeed, they would be eligible for permanent legal residency. But they would not be eligible for citizenship." 
The Cruz campaign did not respond to a request for comment from Mic on Wednesday.
A harder line: As he seeks to navigate a presidential terrain reshaped by the immigrant-bashing campaign of frontrunner Donald Trump, Cruz has adopted a harder line on immigration, opposing not only legal status for undocumented migrants but also urging new curbs on legal immigration. Last month, he proposed a freeze in immigration levels when the national labor participation rate (the portion of able-bodied workers actually employed or seeking work) is "below historic averages." The current rate is 62.5%, a four-decade low.
That marks a turnabout from Cruz's 2013 statement to the Washington Examiner that he was an "unapologetic advocate of legal immigration" who wanted more highly skilled workers to enter the country from abroad; two Cruz's amendments provided for an increase in skilled worker visas and an uptick in legal immigration numbers.
With his latest proposal, Cruz has added to "a large body of work against immigrants," Tremonte told Mic. "It would be impossible for him to shape-shift into a pro-immigration candidate" in a general election battle, she added.
But when Cruz said Tuesday night that he doesn't "intend" to back legalization, many observers couldn't help but wonder if he was leaving himself wiggle room the fall contest, in which the GOP will need to dramatically improve on the 27% of the Hispanic vote Mitt Romney won in 2012. Tremonte said any attempts to walk back his rhetoric would backfire on Cruz.
"You can't recalibrate. The message is loud and clear," she said. "Being cute with words and later claiming 'that's not really what I meant,' that's the type of Washington games people hate."
Whether Cruz would play those games in a matchup against Clinton, his record on immigration is already one of slippery language, devious ploys and politically expeditious U-turns. The anti-establishment candidate who may ride a wave of anti-Washington fervor to the GOP nomination is, it turns out, quite adept at the ways of Washington.