Here's How to Create the Ultimate Holiday Playlist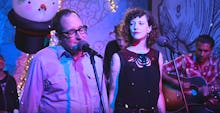 We're coming to that point in the season when true holiday music lovers stop playing around. While the amateurs have already filled up on chestnuts roasting on an open fire, the real connoisseurs of Christmas jams are just getting started. They've been been rocking Burl Ives for the past month, they cheered the release of Fetty Wap's "Merry Xmas" and they're ready to jingle all the way into New Year's.
If you haven't yet gotten your annual fix of nostalgia and seasonal spirit, there's still plenty of time. To help you curate the right holiday songs for the right moment — whether it's a Yuletide blowout or just a night hanging out with friends — we asked some musical artists and curator experts for their guidance on creating the ultimate holiday playlist.
Tap into nostalgia. For Craig Finn, the singer and songwriter who fronts the Hold Steady, curating a holiday playlist is about finding the right balance between old and new, between the classic mainstays and the fresh takes that can revive them and give them currency.
"It's such a nostalgic time, so I feel like you have to tap into everyone's nostalgia," Finn told Mic. "I think it's just a matter of balancing secular with hip with traditional. I wouldn't shy away from something that's religious or nostalgic in that way — like 'Away in a Manger.'"
Sarika Doshi thinks a lot about lists. Rank and Style, the company Doshi co-founded and now leads as CEO, uses a mix of algorithmic and human-powered curation to create shopping guides for fashion consumers. She's also proud to be "a complete cheeseball old soul when it comes to the holiday season."
"I have to admit that holiday music is even on my iPod when I'm walking around the city," she told Mic. "I feel like there's one month of the year you get to do that, and it's completely acceptable to have that music playing without feeling any less cool."
Doshi grew up in a house where holiday tunes were on constant rotation from the day after Thanksgiving straight through Christmas. She cherishes the traditions she shared with her family: annual trips from Connecticut to New York City to see the tree and department store windows, Candlelight Carol Festival at Riverside Church, the Alvin Ailey American Dance Theater at City Center.
"To me that's what the holidays are all about," she said. "Classic, nostalgic traditions and finding ways to incorporate them into your life that's constantly changing."
Add some modern classics. A few classics from the Christmas pop canon — particularly from the mid-20th century — are unimpeachable crowd-pleasers.
Singer-songwriter Alexa Wilding shared a list that includes Bing Crosby's take on "Have Yourself a Merry Little Christmas," anything from Vince Guaraldi Trio's A Charlie Brown Christmas and Louis Armstrong's What a Wonderful Christmas. Doshi includes albums from Ella Fitzgerald, Frank Sinatra and Duke Ellington's take on Pyotr Ilyich Tchaikovsky's "Nutcracker Suite."
The trick is to play those off of other songs with more recent vintage that deserve to be designated as modern classics. Finn put Low's "Just Like Christmas" in that category.
"That's like my favorite Christmas song," he said. "I've always loved that there's a Low Christmas album." Finn enjoyed it so much that he and tour-mate Esmé Patterson covered it live for the AV Club on a recent stop in Chicago.
"The other one that always brings tears to my eyes is, of course, the Pogues/Kirsty MacColl song ['Fairytale of New York'], which I sorta can't hear enough," Finn said. "I could listen to that in July. Along with the Low song, I think that's sort of like peak Christmas. I think there's people out there that probably think it's schmaltzy now, but not me."
A little schmaltz goes a long way. Of course, one can go — and many have gone — too far with attempts to reinvent classics or push another novelty confection.
"To me, an overly 'indie' or cutesy Christmas is to be avoided," Finn said.
But Doshi is unabashedly all in on the syrupy and sentimental. 
"I have a soft spot for Wham!'s 'Last Christmas' and Band Aid's 'Do They Know It's Christmas (Feed the World).' I'm even open to Michael Bublé's Christmas," she said. "There's very little that's off limits."
Remember, it's a party. All of the above might make your guests merry and bright, but it won't get them on their feet.
"I generally think hip-hop-inspired christmas songs work amazingly well,"  NewsCred CEO Shafqat Islam, who used to spin as a semi-professional DJ before co-founding the content marketing company, told Mic. "You can't go wrong with this one: 'Santa Baby' Run, Mase, Puff Daddy and Snoop Dogg, feat. Salt-N-Pepa, Onyx and Keith Murray."
"To be honest, it's hard to work in holiday music while the party is going strong," Islam said. "I used to go straight-up old-school Christmas songs before the crowd was ready to dance. And then go straight to non-holiday hip-hop. And then throwing in a gem like the 'Santa Baby' remix always worked. I'd bookend it with a Snoop and an Onyx song. The combination was so crazy that people would love it."
Wilding has a similar aversion to pure holiday playlists. "In my opinion, there is nothing worse than a holiday party where holiday music plays all night long," she told Mic via email. "If I had it my way, we'd be listening to Joni Mitchell's 'River' on repeat all night long (tissues, everyone goes home)."
The best playlists balance familiarity with serendipity and discovery. But your holiday mix shouldn't be about impressing — or alienating — your guests with deep cuts.
"I am a real believer in not getting too obscure with the Christmas tunes and just giving everyone what they love and know, what you love and some dance-y tunes so people have fun," Wilding said. "For instance, I always throw the Bee Gees ... always important to have a dance number ready in case there's an awkward moment."