North Korea Sentences Canadian Pastor to Hard Labor for Life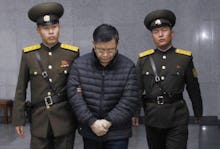 Jon Chol Jin/AP
A Canadian pastor has been sentenced to perform hard labor for the rest of his life from the confines of a North Korean prison after the nation's highest court determined Hyeon Soo Lim should be charged with "subversion," Reuters reported Wednesday. The court's decision follows Lim being detained in February then appearing on state-sponsored television to confess to the charges without ever being given the chance to meet with Canadian officials.
The "unduly harsh" sentencing was immediately denounced by Canadian authorities, who say repeated requests to meet with Lim have been declined or ignored by the North. "This is a serious violation of the Vienna Convention on Consular Relations and the right of states to have consular access to their citizens," spokesperson for the Canadian Department of Foreign Affairs Diana Khaddaj said in a statement.
A video of Lim in court as the decision was announced shows the pastor being taken out of handcuffs, as well as reading the prepared confession once again from a sheet of paper, describing his supposed "impure purposes to confuse the minds of North Korean people who worship their leader unconditionally and to collapse the solidarity of North Korea's leader, party and people." 
Though it's unclear exactly what sort of acts the North Korean government is declaring Lim performed against the regime, a report from the government's Korean Central News Agency states, "He malignantly hurt the dignity of the supreme leadership and social system of the DPRK and resorted to subversive plots and activities in a sinister bid to build a religious state in the DPRK while frequenting it under the guise of 'humanitarian aid' and 'free donation' over the past 18 years," according to International Business Times.
During the court appearance, Lim also stated he is guilty of "not only viciously defaming the highest dignity of Korea and its system but also possessing the wicked intention of trying to topple the Republic by staging an anti-state conspiracy," Reuters reported.
Dec. 16, 2015, 4:24 p.m. Eastern: This story has been updated.