Here Are the Character Posters for 'Batman v. Superman: Dawn of Justice'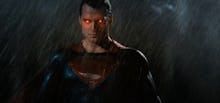 Posters for DC Comics' latest superhero-studded film, Batman v Superman: Dawn of Justice, were released on social media Wednesday by the film's stars — Gal Gadot's Wonder Woman, Ben Affleck's Batman and Henry Cavill's Superman. The new movie, directed by Zack Snyder and written by Chris Terri and David S. Goyer, is slated for release on March 25, 2016. 
Batman and Superman will be face-to-face for the first time in the new film, according to its website. The plot will follow the aftermath of 2013's Man of Steel, a Superman movie also starring Cavill, which ended with Superman beating General Zod, according to Collider. 
Alongside the trinity are Amy Adams as Lois Lane, Superman's romantic interest, and Jessie Eisenberg as the antagonist Lex Luthor Jr. Scoot McNairy, Holly Hunter and Diane Lane also star in the film, according to IMDb.
And for those who think Batman stands no chance against Superman's superhuman powers are wrong. Choreographer Guillermo Grispo told Los Andes Diaro that Batman will have sneaky alternatives to physical strength when it comes to fights between the two, according to Cinema Blend. 
Audiences can expect a film as epic as the posters, since Affleck has called Snyder an "incredibly magical sort of visual artist," in an interview with NPR last year.