The Meaning of "16 Shots," the Phrase Chicago's Urban Prep Chanted at Mayor Rahm Emanuel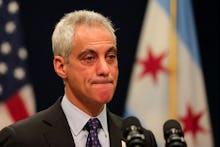 During a scheduled visit Wednesday to Chicago's Urban Prep, an all-boys charter school, Mayor Rahm Emanuel was interrupted by student protesters chanting "16 shots," reported the Chicago Sun-Times.
The cry of "16 shots" refers to the number of times 17-year-old Laquan McDonald was shot by Chicago Police Officer Jason Van Dyke in October 2014. Van Dyke was indicted this past November on first-degree murder charges in McDonald's death. The same day of Van Dyke's indictment, video of McDonald's death recorded by a patrol car dashboard camera was made public, sparking protests across the the city.
Emanuel has been accused of delaying the video's release until after February's mayoral election. In the past, Emanuel maintained that the video could not be released because of an "ongoing criminal investigation," reported the Daily Beast, but in November, the office of State Attorney Anita Alvarez confirmed to Politico that it never took legal action to block the video's release, indicating that the footage was kept hidden at the administration's will, not out of legal necessity. In November, a judge ordered the video's release.
Emanuel was visiting Urban Prep to promote the My Brother's Keeper program, an initiative meant to address issues faced by young men of color, and to celebrate the "successes enjoyed by Urban Prep students," reports the Chicago Tribune. Just before a recitation of the school's creed, students began a chant of "16 shots" that went on "for about 10 seconds," reports the Tribune. 
A spokeswoman from the mayor's office issued a statement. "The mayor recognizes that Chicagoans are understandably frustrated. He has called for systemic reform to bring safety to every community and rebuild trust where it has been lost. As part of that process he will continue to engage with residents, police, and community leaders to address their specific concerns," reports CBS.