Senator Probing Ted Cruz Leak Missed GOP Debate Because He Was Watching 'The Voice'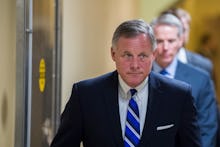 Sen. Ted Cruz (R-Tex.) may not have had a Rick Perry moment in last night's CNN-moderated Republican   presidential debate, but he may nonetheless have landed himself in hot water. 
The Associated Press reports that Sen. Richard Burr (R-N.C.), chairman of the Senate Intelligence Committee, has ordered staffers to examine whether Cruz improperly revealed classified information during the Las Vegas face-off.
The probe centers on Cruz's statements about counterterrorism surveillance under the Cruz-backed USA Freedom Act. Responding to criticism from rival Sen. Marco Rubio of Florida, Cruz said that investigators can examine "nearly 100%" of phone numbers in terror investigations under the law, while authorities could only do the same for "20% to 30%" before the law's passage. As the AP noted, Rubio charged during the debate that Cruz had just divulged classified information.
Now, Burr's committee is looking into the matter. But Burr himself missed Cruz and Rubio's exchange: "The Voice was on. It was the final episode," he told the AP.
While Burr was busy watching 22-year-old Kentuckian Jordan Smith belt his way to victory on The Voice, his communications director Becca Glover Watkins was tuned into the GOP debate, and had her own take on the matter:
Cruz isn't the first 2016 candidate to face accusations of mishandling classified material. Republicans have been hammering Democratic frontrunner Hillary Clinton for months over the revelation that the private email server she used as secretary of state contained classified information, charging that Clinton put national security at risk.
Cruz has suggested Clinton should face criminal charges for her email setup.