This Is the 2016 Republican Debate Schedule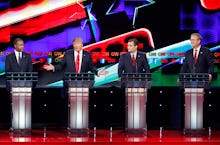 The fifth and last Republican debate of the year took place on Tuesday in Las Vegas. Over the course of two rounds — a second-tier debate and the main debate — 13 candidates took to their podiums to discuss national security, such as ISIL and terrorism, and immigration. Here is a full list of all the Republican debates taking place in 2016, according to the 2016 Election Center: 
Thursday, Jan. 14: Sponsored by Fox Business Network, candidates will gather in North Charleston, South Carolina. Time and moderators are unannounced. 
Thursday, Jan. 28: This debate will take place in Iowa. 
Saturday, Feb. 6: Sponsored by ABC News/IJReview, candidates will go head-to-head at St. Anselm College in Manchester, New Hampshire, at 8 p.m. Moderators are set to be David Muir and Martha Raddatz. 
Saturday, Feb. 13: Sponsored by CBS, candidates will meet in South Carolina. The only known moderator is John Dickerson.
Friday, Feb. 26: National Review will sponsor this debate, which is taking place in Houston. 
Thursday, March 10: CNN and Salem Media Group will sponsor this March debate, which will take place in Florida.
March: This pending debate will be sponsored by Fox News but has no official date, time or location. 
Tuesday's primary debate included retired neurosurgeon Dr. Ben Carson, real estate mogul Donald Trump, Texas Sen. Ted Cruz, Florida Sen. Marco Rubio, former Florida Gov. Jeb Bush, former Hewlett-Packard CEO Carly Fiorina, New Jersey Gov. Chris Christie, Ohio Gov. John Kasich and Kentucky Sen. Rand Paul.
The debate was hosted by CNN's the Situation Room's Wolf Blitzer, with questions also posed by Hugh Hewitt and Dana Bash. 
Although social media praised Rubio for his presence in the debate, the fight for the candidacy isn't over yet. There are still seven more debates to take place from January until March.