FBI: Reports That San Bernardino Shooters Publicly Backed ISIS on Facebook Are "a Garble"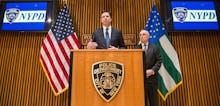 During Tuesday night's Republican presidential primary debate in Las Vegas, the candidates were dead set on the idea that social media played a major part in the Dec. 2 mass shooting in San Bernardino, California, which left 14 victims and its two perpetrators dead.
Former Hewlett-Packard CEO Carly Fiorina called for Silicon Valley experts to get involved in the fight against terrorism, while frontrunner and real-estate billionaire Donald Trump said he would shut down portions of the Internet to root out Islamic State's online strongholds.
"We didn't monitor the Facebook posting of the female San Bernardino terrorist because the Obama DHS thought it would be inappropriate," Texas Sen. Ted Cruz said. "She made a public call to jihad, and they didn't target it."
There's one problem. Despite widespread media reports — including articles on Mic — that shooters Tashfeen Malik and Syed Farook posted their allegiance to Islamic State on Facebook, the FBI told Reuters on Wednesday no such social media activity had actually occurred.
FBI director James Comey told a security conference that no public postings declaring support for jihad surfaced, but clarified that private communications between the shooters and uncovered by investigators did contain messages of support for "martyrdom and jihad."
"So far, in this investigation we have found no evidence of posting on social media by either of them at that period in time. ... I've seen some reporting on that, and that's a garble," Comey said, according to the Washington Post.
This could be the last major development on the San Bernardino case we get directly from Comey, whose department, he said, has its hands full with terrorism-related investigations. Come said the bureau FBI's ISIS-related cases number in the "hundreds" and involve all 50 U.S. states.