"Affluenza" Teen Ethan Couch, Who Killed 4 in Drunk Driving Accident, Goes Missing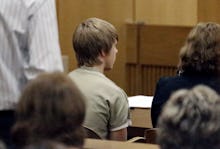 Almost exactly two years after Texas teenager Ethan Couch killed four people in a drunk driving accident, Couch has gone missing. Couch, who was 16 years old at the time, was awarded 10 years of probation as punishment for his crime in lieu of jail time, after his defense argued he suffered from "affluenza," or a term that combines the words "influenza" and "affluence" and is used to describe psychological problems that allegedly afflict some youth raised in wealthy families. Since the fatal drunk driving incident, Couch has been referred to, infamously, as the "affluenza teen."
On Dec. 2, a social media user posted footage online of what is allegedly Couch standing alongside a game of beer pong with peers. The person captioned the video, "[Your] boy Ethan Couch violating probation."
The city of Burleson, Texas, commented on the video, saying, "Burleson Police forwarded this video tweet to the TCDA last night, and they are investigating."
And on Dec. 3, the Tarrant County Sheriff's Office confirmed receipt of the video making the viral rounds on social media.
Since then, Couch and his mother have gone missing. "We have recently learned that, for the last several days, the juvenile probation officer has been unable to make contact with Ethan or his mother with whom he has been residing," Reagan Wynn and Scott Brown, Couch's lawyers, told ABC News. "It is our understanding that the court has issued a directive to apprehend, to have Ethan detained because he is out of contact with his probation officer."
ABC reports that the investigation into the video posted to social media, as well as the investigation into Couch's whereabouts, is still ongoing. 
Speaking to the New York Times, district attorney's office spokeswoman Samantha Jordan said investigators had yet to confirm Couch had in fact violated the terms of his parole. "We are now investigating his whereabouts and the whereabouts of his mother," Jordan told the Times. "The supervision is under juvenile court, but if there was an ultimate violation, juvenile prosecutors are part of our office. We don't know that they have committed any crime, but we certainly are interested in their whereabouts."
At the time of the drunk driving incident, Couch was behind the wheel of his pickup truck intoxicated. According to ABC, Couch was driving with more than three times the legal limit of alcohol in his system. Couch pleaded guilty to multiple counts of intoxicated manslaughter and intoxicated assault in December 2013.