16 Months After Michael Brown's Death, Ferguson Officials Announce Police Reforms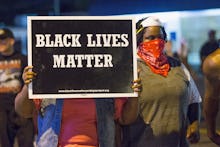 Ferguson, Missouri, is on the brink of a deal with the Justice Department that would reform its law enforcement's practices, city officials told the New York Times on Wednesday. The agreement responds both to a $40 million civil rights lawsuit brought by Missouri residents alleging excessive force and the Justice Department's investigation of Ferguson's police forces. 
Ferguson, part of the St. Louis metropolitan area, became the birthplace of the Black Lives Matter movement after 18-year-old unarmed black male Michael Brown was shot dead by a police officer in August 2014. 
According to the Justice Department's report, published in March, "Ferguson's police and municipal court practices both reflect and exacerbate existing racial bias, including racial stereotypes. Ferguson's own data establish clear racial disparities that adversely impact African Americans." The report cites specific incidents, including racist internal emails, verbal and physical harassment and arrests without probable cause. 
Earlier this year, Mic reported:
Investigators found that black residents of Ferguson were subjected to 93% of arrests and 85% of traffic stops between 2012 and 2014, despite making up just 67% of Ferguson's total population. They were also "more than twice as likely as white drivers to be searched during vehicle stops, but 26% less likely to be found in possession of contraband, from 2012 to 2014," according to the report.
According to the New York Times, the deal "would require new training for police officers ... improved record-keeping, and would install a federal monitor to ensure those changes were made." Though these reforms come with a steep price tag for the city — around $350,000 — Mayor James Knowles III said it's worth meeting the Justice Department halfway. "To me, fighting that at this point does what?" Knowles told the Times. "The idea that we want to spend millions to fight something when we could spend half a million, or whatever, on equipment and training? That's what we have to do."
Still, he said, before the city files their plans for change to the federal courts, they will be made available to the public, an anomaly as such agreements are usually made privately, according to the Times. But if the deal requires a tax hike, it will ultimately need voter support. 
"I think the public should be able to see it, weigh it, scrutinize it — I think that's fair. We have said all along, 'We're not going to just agree to this and send you the bill,'" Knowles said.