An Italian Porn Star Is Campaigning For Mandatory Sex Ed In Public Schools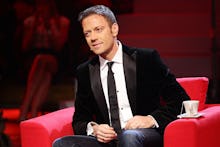 Given how easily accessible free online porn is (especially compared to actual sex ed), many young people learn their first lessons about sex from the Internet. But because porn isn't exactly like real life, the information teens are getting about sex is often wildly inaccurate, not to mention misleading. 
That's exactly why one Italian porn star is trying to steer teens away from the Internet and bring sex ed back into the classroom. Rocco Siffredi, an adult actor widely known as the "Italian Stallion," has made it his new mission to ensure mandatory sex education in Italy's schools — and he's even offered to teach the classes himself. 
In honor of Global Orgasm Day, celebrated annually on Dec. 22, the 51-year-old porn star launched an online petition challenging the nation's education minister to include sex ed as part of a basic classroom curriculum. Clearly, Siffredi is on to something: his petition has garnered more than 30,000 signatures within the first week. 
"I want to launch this appeal, because sex is a beautiful thing," Siffredi wrote on his Change.org petition. "Students [should] have the right to open up, ask questions, get answers, receive training on a of the most beautiful and important [things] in life." 
As Siffredi's petition points out, sex education is compulsory in most EU countries, but historically religious Italy is one of a few exceptions. The Vatican has long been critical of teaching kids about sexuality outside a biological context. While a 2013 European Parliament report noted that while some Italian schools do provide some minimal sexuality education for high school-aged students, typically within the context of a biology class, a 1984 agreement between the Catholic Church and Italian government requires that the country's Ministry of Education consider church views in its stipulations for sex ed. 
In lieu of a standardized curriculum, Siffredi's petition claims, young people are turning to pornography to satisfy their curiosity. He's not entirely wrong. 
According to a recent survey conducted in the United Kingdom, where sex education also isn't required in schools, approximately 60% of high school- and college-aged students admitted they looked to porn to get information about sex, even though almost 75% of students said they believed that adult content instilled unrealistic expectations about sex. 
"Pornography should be entertainment, but for lack of alternatives has become a learning tool, especially among young people," Siffredi wrote. "I have done my job for 30 years and I have acquired enough experience to ensure that what I do is not sex education." If his petition is successful, though, maybe soon it will be. 
h/t Euronews