TLC's New Album Is In the Works — Here's What We Know So Far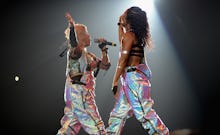 '90s kids rejoice: R&B duo TLC may soon release their long-awaited new album. The group, which consists of T-Boz (Tionne Watkins) and Chilli (Rozonda Thomas), announced back in January it was launching a Kickstarter campaign to fund a fifth and "final" studio album.
"We wanted to add to our catalog. We've been so blessed to have a great catalog, and songs that people love and want to hear," Chilli told Time in January. "And with all of the requests from our fans wanting new stuff, it was like, 'OK, let's do this one more time.'"
TLC has sold more than 22 million albums in the United States, according to MTV, and the girl-group achieved cross-genre success with massive hits like "No Scrubs" and "Waterfalls." TLC's most recent studio album, 2002's 3D, was released only months after the death of group member Left Eye (Lisa Lopes) in a car accident in the Honduras.
Within three days of announcing the project in January, the group's Kickstarter had reached its goal of raising $150,000 toward a final album, the Guardian reported, and, when funding closed on Feb. 19, the page had raised $430,255 from more than 4,200 people.
But months later, with no album in sight, fans are starting to get antsy, complaining on social media that they were waiting to see the results of the Kickstarter campaign. 
In September, an update on the Kickstarter page announced the album wouldn't be released until 2016: "We are moving the album back to 2016, so that we will have more time to finish the record the TLC way. Thanks as always for your love and support and we can't wait to deliver a new record and tour next year."