WestJet Miracle Video Is Giving Twitter Users All the Feels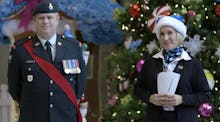 Canadian airline WestJet is back with their annual heartwarming Christmas video, and this time they're spreading the feels wider than ever. 
Back in 2013, the airline's Christmas video showing passengers being surprised with exactly what they wished for went mega-viral. For this year's vid, released this week, the company set out to film "12,000 mini miracles ... over a 24-hour period," according to WestJet's blog. The company defined "mini-miracles" as "an act of kindness that evokes a positive response from someone."
Some of the "mini-miracles" that made it into this year's video included paying for a strangers order at a café:
Giving away a flight to Hawaii to a Canadian veteran and his family:
And donating toys and stuffed animals to kids in need:
The video is basically just a long list of people doing nice things for other people, so of course it gave the Twitterverse lots of feels:
This might be the only time of year everyone goes on social media to say how much they love an airline.