Mike Epps' 'Don't Take it Personal' on Netflix: Preview and Release Date for Comedy Special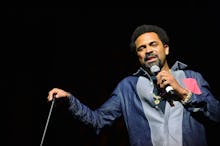 Starting Friday, comedian Mike Epps will be available to Netflix and chill with his fans: His stand-up comedy special, Don't Take It Personal, was recorded live at the Orpheum Theatre in Los Angeles and will be available to stream for Netflix subscribers. The forthcoming Netflix special covers fatherhood, weed, childhood and more in Epps's "familiarly brash and lithe" style, as Collider put it.
"Warning: The following material may be considered shocking, inappropriate and offensive... because it is," reads a disclaimer that kicks off the trailer.
Epps has appeared in such films as The Hangover and Next Friday, and is confirmed to play Richard Pryor in the Lee Daniels biopic, Richard Pryor: Is It Something I Said? Epps will star alongside Oprah, Kate Hudson and Eddie Murphy. He also joins Marlon Wayans, Kali Hawk, Andrew Bachelor, Affion Crockett, Jane Seymour, Fred Willard and Florence Henderson in Fifty Shades of Black, a parody of the book-series-turned-film-series starring Dakota Johnson and Jaime Dornan; according to Deadline, it hits theaters on Jan. 29. Recently, Epps received an NAACP Image Award best supporting actor nomination for his role in the Starz series Survivors' Remorse.
Don't Take It Personal is one of many comedy options Netflix is offering this December: There's a stand-up special by Undateable's Brent Morin, A Very Murray Christmas starring Bill Murray and a slew of other celebrities, as well as Bill Burr's animated F Is for Family, which also starts streaming Friday.