'Making a Murderer' on Netflix: Plot, Trailer and Release Date for Documentary Series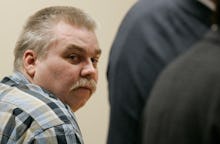 Making a Murderer, a new crime documentary out this week from streaming service Netflix, will premiere on the site on Friday, the company announced in a press release in November.
The 10-episode series will investigate the story of Steven Avery, who "served 18 years in prison before being exonerated by new DNA evidence," according to a review of the documentary series in the New York Times. In 2007, after being released from prison, Avery was arrested again and convicted of murder.
Netflix released a trailer for Making a Murderer last week. "There are an unbelievable number of twists and turns in the story arc of Making a Murderer, it feels like it has to be fictional," Lisa Nishimura, the company's Vice President of Original Documentary Programming, said in a press release.
The documentary is directed by filmmakers Moira Demos and Laura Ricciardi, who reportedly made the series over a period of 10 years.
Making a Murderer comes amidst a slew of new Netflix original programming, including comedian Aziz Ansari's Master of None, comic-book adaptation Jessica Jones and seasonal special A Very Murray Christmas.