You May Not Have Noticed But There Were Almost No Latino Films in 2015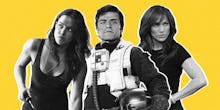 The highest-grossing films of 2015 star James Bond, a man in an iron suit, a man stuck on Mars, a tyrannosaurus rex and the fictive emotions in our head — but almost no Latinos.
Aside from supporting roles by Michelle Rodriguez in Furious 7, Oscar Isaac in Star Wars: The Force Awakens and Jennifer Lopez and Ryan Guzman's lead roles in The Boy Next Door, very few mainstream films featured Latino actors. Even worse, of the four performances mentioned above, only one actor, Rodriguez, actually portrayed an explicitly Latino character. 
Yes, there were few Latino roles this year, but there were even fewer Latino-themed mainstream films. In fact, as Flavorwire points out, 2015 saw an equal number of films about Latinos and about monkeys. 
The most high-profile Latino-themed film of 2015 was probably McFarland, USA starring Kevin Costner as a running coach who teaches a team of Latinos to rise above their socioeconomic status through sportsmanship. The movie didn't fare too well and was dismissed as saccharine sports-movie schmaltz. In crime drama Sicario, Latino actors were mostly unnamed drug dealers and cartel members. 
When Latinos are cast on screen, they often have to deal with identity erasure. So a big-screen role for a Latino actor may not necessarily be a huge win for the community. For instance, both Lopez and her co-lead Guzman have Latino names but are presented as white in The Boy Next Door.
"They're presented in code," Felix Sanchez, chairman and co-founder of the National Hispanic Foundation of the Arts, told Mic. "We know their ethnicity. Their names reveal their ethnicity, but the portrayal is completely absent the ethnicity." 
Sanchez said this is a case of studios trying to benefit from casting Latinos without calling them Latinos. "It's a 'have your cake and eat it too' mentality," he said.
Diversity conversations seemed to reach a fever pitch this year. In early 2015, the #OscarsSoWhite hashtag showed the lack of diversity among the Oscar nominees and the larger problems of diversity in the Academy's racial makeup. While most of the tweets were aimed at its lack of black representation — the Academy has a dismal 2% black membership, the Los Angeles Times reported — even fewer Latinos are at the table in the Oscar conversation. A Latino actor hasn't won an Academy Award since Benicio del Toro won for 2000's Traffic.
In her Emmy acceptance speech, Viola Davis said people of color can't be recognized for their work if the roles don't exist. And without that infrastructure, there is an unclear road to stardom for many Latino actors. Julia Roberts rose through the Hollywood ranks from Mystic Pizza in 1988 to Academy Award nominations for 1989's Steel Magnolias and 1990's Pretty Woman, but those opportunities don't seem to exist for Latino actors.
"She did Pretty Woman, and she became a name," A.B. Lugo, associate director of the Hispanic Organization for Latino Actors, told Mic. "Where are those opportunities for us? Why are we stuck playing maids? There's nothing wrong with being a maid, and I'd understand if that was one of many forms of representation, but Latinos are doctors, Latinos are lawyers, Latinos are maids, Latinos are everything. So why can't we say that?" 
In a Hollywood that is increasingly risk-averse and reliant on sequels, prequels and reboots, the status quo doesn't bode well for Latinos. And it's likely only hurting Hollywood studios and their bottom lines.
Currently, Latinos make up 17.4% of the U.S. population but over-index when it comes to heading to the theater: They were 32% of frequent moviegoers in 2013, and Latinos made films like The Lego Movie a success.
They also go to see movies on opening weekend more than the average moviegoer — 47% vs. 37% — and they go to the movies six times a year on average, as compared to four for the non-Latino population. 
"Hispanics are far and away the most important consumer at our cinemas," John Fithian, CEO of the National Association of Theatre Owners, told a Los Angeles crowd in June 2014, according to the Wrap.
The central problem behind the lack of Latino roles and Latino-themed films seems to be Hollywood's disconnect with a broad spectrum of Latino identities. Arturo Castro plays Jaime, a gay, Latino, newly documented immigrant, on Comedy Central's Broad City. He told Mic that U.S. culture is in a process of "demystifying" what it's like to be Latino. In fact, that exact word came up with several interviewees. 
"Demystifying who we are is very important, and the only way we can accomplish that demystification is through the media," Sanchez, of the National Hispanic Foundation of the Arts, said. 
"There's a real reason why Latinos are the bogeymen of the [Donald] Trump campaign — because of a lack of understanding of who we are that creates fear," he said. "The media concepts that get developed are so one-dimensional. They're flat; they don't give you a lot of movement." 
And the spectrum of experiences is far too broad for these same, tired roles. Castro said picking characters weighs heavy on him, as he tries not to pick the roles that hurt perceptions of Latinos in general. He clarified that he would play a drug dealer or criminal — if the story was rich and the character was more than one note. 
"I think, 'Can I look at my people and put on a straight face and say 'I took this role' and be proud of my work?" Castro said. "I try my best so that every step I take has a positive outcome for the platform that we want, which is Latinos being seen as regular people." 
While many Latinos do identify as Latino or Hispanic, they also identify with their country of origin, each of which has a unique culture. Sometimes, a show about a Mexican family may not resonate with a Dominican family, just as a story about a Venezuelan family may not resonate for Puerto Ricans.
"We can be whiter than the whitest white and darker than the darkest dark and that's the beauty, but it's also the conundrum of 'What does a Latino look like?'" Lugo, of the Hispanic Organization for Latino Actors, said. "But just because we have a variety of looks does not ensure that we get a variety of roles."
But Castro said execs might be starting to take notice, at least in his case. "Getting studios out of their comfort zone is hard to do," Castro said. "I've started to notice, and it's a powerful thing that studios see that A) Latinos are not just one thing and B) how much more meaningful and credible a story is when you cast someone off of talent who happens to be Latin."
According to those who spoke to Mic, studios must also offer more opportunities, even after one project fails. " I think you have to take chances, plural, because I feel that a lot of times people will do one thing and be like 'It failed — never again!'" Lugo said.
One actor-director said the demystification of Latinos will happen as more actors produce their own projects devoted to Latino culture. If Latino identity is unclear to the American public, it may be up to Latinos to make it plain.
"I feel like actors also have to create and produce their own work in order to break through that barrier," Dominic Colón told Mic. Colón is an actor with over 50 credits, including Southpaw. He is also a writer and producer whose short film Crush, produced along with HBO, won the short film script competition at the New York International Latino Film Festival. 
It might seem easier to tell Latino stories given that there are arguably more high-profile Latino directors than ever before. In the last two years, the Academy Award for best director has gone to Mexican directors — Alfonso Cuarón for 2013's Gravity and Alejandro González Iñárritu for 2014's Birdman. Neither film had explicitly Latino content, nor does Iñárritu's critical-darling follow-up The Revenant, coming out on Christmas Day. 
These two directors, along with Guillermo del Toro, are three of the most well-known in the business today, but their most recent work doesn't tackle Latino themes. But the directors have before. Cuarón got on Hollywood's radar with his crossover hit Y Tu Mamá También. Iñárritu's "Death Trilogy" films (Amores Perros, 21 Grams and Babel) had several Latino characters and stories. And while del Toro has been a Hollywood mainstay since the 1990s, his most critically lauded film is Pan's Labyrinth, which is completely in Spanish. 
Sanchez said as these directors advanced in their careers, they moved to what Hollywood might call more "universal" — read: white — narratives.
"While we are supportive and applaud their success, we are still yearning for more authentic Latino narratives and characters that can reference who Latinos are today in the United States," Sanchez said. 
When asked about what he's looking forward to in terms of Latino performances and narratives in 2016, Sanchez offered a pretty general, yet direct, answer.
"I'd love to see these incredible Mexican filmmakers take on the challenge of exploring identity, Latino identity, in the year 2016," Sanchez said. "And that hasn't been done." 
Without Latino directors telling Latino narratives, who will take on task of presenting Latino identity? And who will star in them? Not since Michelle Rodriguez's much-lauded debut in Girlfight has she helmed a movie solo. Oscar Isaac played a major Latino character in 2014's A Most Violent Year. But now he's a part of the Star Wars universe and played the supporting role of an ethnically ambiguous tech billionaire in 2015's Ex Machina.
Though by no means perfect, many interviewees pointed to the television landscape as a potential bright spot for Latinos. Jennifer Lopez, one of the most recognizable Latina actresses, has moved to television's greener pastures. In 2016, she'll appear on the final season of Fox's American Idol and the first season of CBS' Shades of Blue. This year, TV watchers saw the small-screen return of Ugly Betty star America Ferrera in an NBC comedy and Desperate Housewives star Eva Longoria in Telenovela. And of course, CW's Jane the Virgin is a critical darling that launched its star Gina Rodriguez into Golden Globe-winning stardom. Castro is on Broad City, where he plays Ilana Glazer's gay roommate. In one episode, he passes his U.S. citizenship test and his friends celebrate his accomplishment on a party boat. 
"Imagine there's a kid somewhere in Guatemala or Mexico thinking their life is gonna suck and he sees someone on TV who's having the fucking time of his life and he has awesome friends," he said.
Lugo said representation is important not only for Latino stories, but for Latino viewers, as well. He spoke about the power of seeing Latino characters on Sesame Street growing up. Lugo's point was made earlier this month when NBC's The Wiz! Live spurred tweets about the importance of characters of color on people's television screens. 
"That showed me I was worthy," he said. "That's why it's so important that we have on our film and television landscape something that closely, if not exactly, resembles what reality is in this country." 
Read all of Mic's year-in-review coverage here.